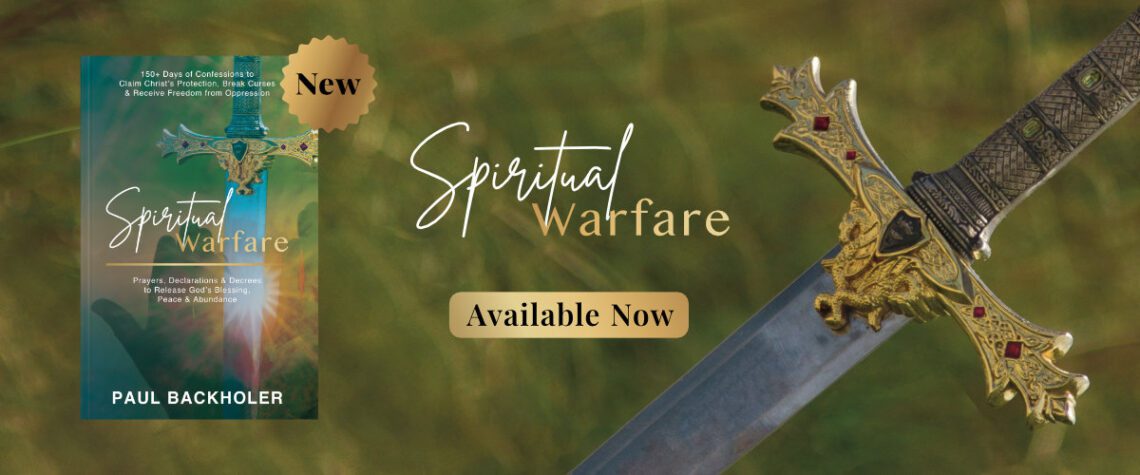 Daily Biblical Confessions to release God's blessing into your life. Spiritual Warfare, a new book by Paul Backholer
Spiritual Warfare, Prayers, Declarations and Decrees to Release God's Blessing, Peace and Abundance by Paul Backholer
Introducing Spiritual Warfare the new bible-based daily devotional from Paul Backholer. Spiritual Warfare contains powerful prayers, declarations and decrees to release God's blessing into every area of your life, and to break the powers of darkness over you and your family.
Discover a commanding five-month collection of strategic prayers and proclamations to strengthen and equip you. These daily biblical declarations and confessions provide a template to renew the mind, so you can press into God's promises and enjoy an abundant, victorious life in Jesus Christ.
And take the sword of the Spirit, which is the Word of God

– Ephesians 6:17
Learn how to enter Christ's fullness and overcome the enemy in countless areas of your life through proclamation and warfare prayers. Including: Living under God's blessing, healing and wholeness, freedom to sleep in peace, God's favour on finances, stress defeated, victory over the enemy, Christ's perfect peace, liberty from rejection, blessings on my home and family, the spirit of boldness, insecurity and inferiority defeated, fear and intimidation overcome, what Christ has done for me, revoking negative confessions, no condemnation in Christ, freedom from evil spirits, the best is yet to come, and much more.
With each affirmation of faith in the Bible, we are renewing our minds and conforming ourselves to the revelation God's Spirit has pronounced in His sacred Word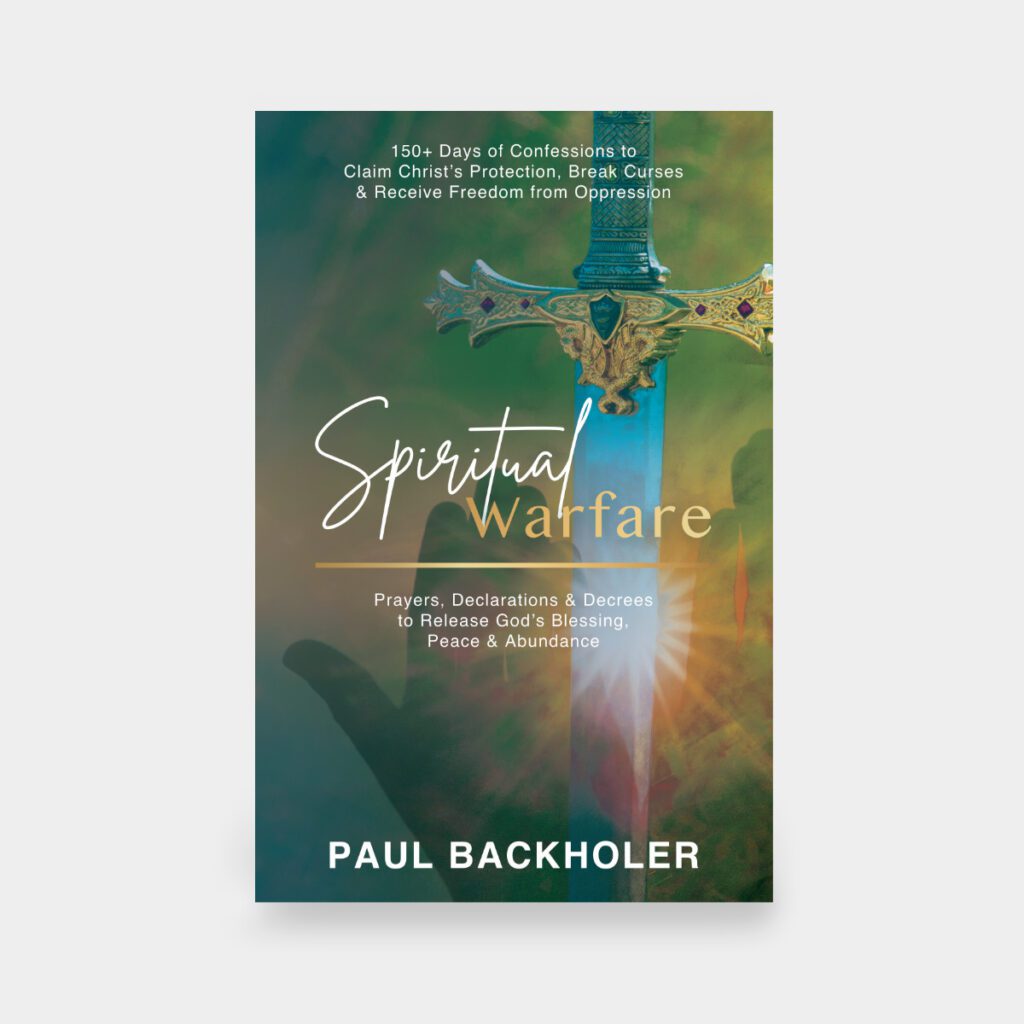 This devotional includes a potent introduction to the efficacy of biblical confession in spiritual warfare and provides you with Scriptural principles to overcome evil, as you enter Christ's inheritance.
Powerfully assert Christ's victory in your life, as you thrive, renewing your strength each day with hope. Enter the Lord's generous and abundant life, as you know God's Word, believe God's Word and confess God's Word.
Released 10 January 2023, pre-order your copy today to be among the first to read this exclusive and long-awaited publication.
Watch the Spiritual Warfare book trailer below:
Declare victory in these areas:
Self-Worth & Confidence
No Condemnation in Christ
Justified & Sanctified
I am an Overcomer in Christ
Christ is My Refuge
What Christ Has Done for Me
I am Wonderfully Made
Abundant Wealth & Poverty Defeated
Renouncing Poverty
Financial Abundance
Blessed Everywhere
Abundance and No Lack
The Power to get Wealth
I Call Forth My Hundredfold
Fear, Anxiety & Panic Attacks Overcome
Overcoming Social Anxiety & Panic Attacks
Freedom to Sleep in Peace
Fear & Intimidation Defeated
Inferiority & Insecurity Defeated
Depression Defeated
Self-Loathing Defeated
Healing & Courage
Stress & God's Perfect Peace
Healing & Wholeness
Suicide & Self-Harm Defeated
Healing Declarations
The Best is Yet to Come
Healing & Youth Renewed
Family Life, Society & Work
Guardian Angels at Home
Godly Spouse
My Working Life & Conflicts Resolved
Bereavement & Comfort in Mourning
Healing My Marriage
Prayer for Another's Salvation
Curses & Evil Spirits Defeated
Revoking Negative Confessions
Release from Soul Ties
Renouncing Unbelief & Curses
Freedom from Evil Spirits
Freedom from Ungodly Ancestral Ties
Free Yourself from Demons
Victory & Protection
The Armour of God
Victory in Christ
God's Power Over the Enemy
I am More Than a Conqueror
The Blood of Jesus
Travelling Mercies
The Power of Declaration
The Power of the Tongue
An Overcomer
The Victory of Christ
Renewing the Mind
Faith-Building Declarations
Great Prayers of the New Testament
The Names of God
Hope & God's Plan
God's Plan for Me
Dwelling with God
A Heart of Thankfulness
Redeeming the Time
Gifts of the Spirit
Showers of Revival Blessing