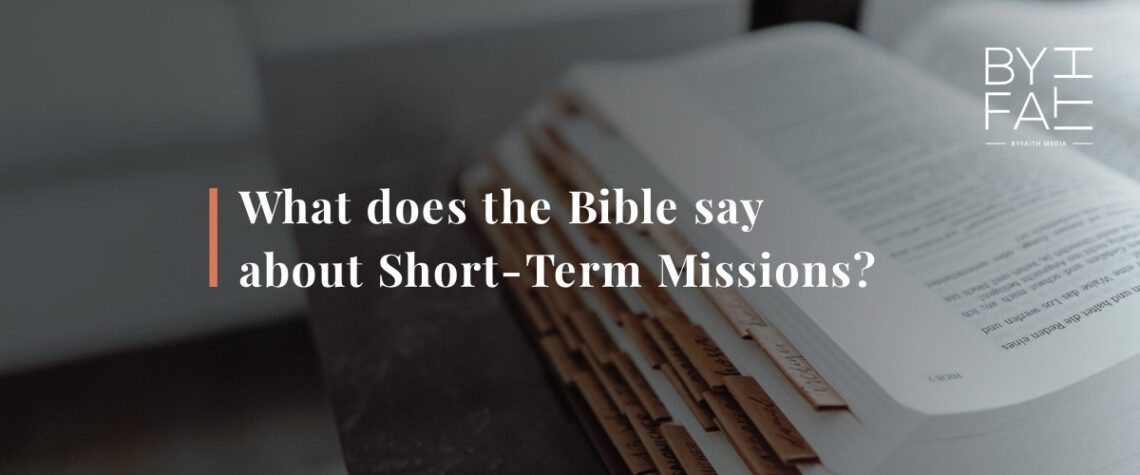 Short-Term Missions in the Bible
Not every parent, sibling or spouse is thrilled with the prospect of the one they love, going away on a short-term mission (STM), taking a year out, or being away from them for just a few weeks. Abraham must have been pestered and perhaps even cross-examined by his family when God called him to go on his mission, leaving as men would say, 'a certain for an uncertain good.' I am sure his friends told him it would be foolish to leave behind the good pastures, familiar surroundings and the warm home life. Undoubtedly, they told him not to heed his wild imagination of the call of God.
Abraham grew up in Ur of the Chaldeans and in Mesopotamia, God met with him (Genesis 11:31 and Acts 7:2), but what if he never set out on his long trek from modern-day Iraq to Israel? Thankfully, he was obedient to the call of God and embarked on a mission that not only changed his life, but the course of history and in him all the families of the earth have been blessed (Genesis 12:1-4).
A large number of the characters of the Bible went on STMs, though, back then, it was known as a mission from God, a directive to go here, do that, or speak to such and such a person the Word of the Lord. Moses, Samuel, Elijah, Isaiah, Jeremiah, Ezekiel and Jonah are perhaps the best known within the Old Testament.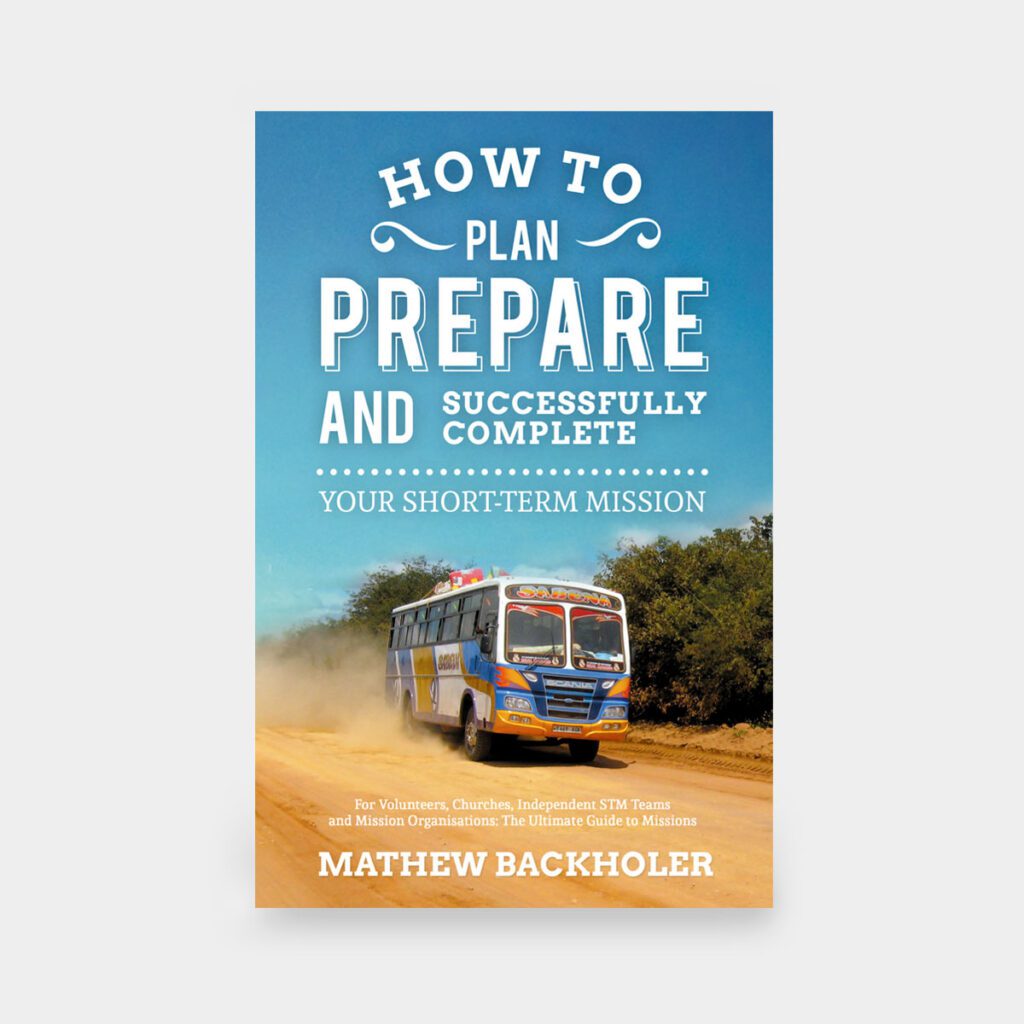 The duration of your short-term mission can vary widely from a week to a year or more. The prophet Jonah's actual ministry at Nineveh (in Assyria) lasted just a few days, though he waited forty days to see God's judgment fall. It did not because the mission was a success, though not in Jonah's eyes! (Jonah chapters 3-4).
Jesus' ministry lasted three years, but His legacy will last through eternity. The apostle Paul 'spent some time' (perhaps weeks) in Antioch (Acts 18:23), he stayed three months in Greece (Acts 20:2-3), eighteen months in Corinth (Acts 18:11), more than two years in Asia Minor (Acts 19:8-10) – which included three months in Ephesus (Acts 19:1-8) and two years at the School of Tyrannus (Acts 19:9-10). Due to a shipwreck, Paul spent three months on the Island of Malta (Acts 28:1-11), and for two years he was under house arrest in Rome and so people came to him for teaching (Acts 28:30).
Jesus the Son of God was the greatest missionary who ever walked this earth because He left His familiar surroundings of Heaven and came to earth. He identified with the people He lived with and moved amongst, and spent just over three years on His mission which changed the world forever.
For I have come down from Heaven, not to do My will, but the will of Him who sent Me

– John 6:38
Jesus saw Simon and Andrew, two brothers who were fishing and said, "Come after Me (follow Me) and I will make you fishers of men" – and they immediately left their nets and followed Jesus. A little further on, Jesus saw two brothers, James and John, the sons of Zebedee, who were also fishermen, He called them and they too followed Jesus (Mark 1:14-18). Jesus saw Levi (Matthew), the son of Alphaeus sitting in his tax office and said to him, "Follow Me" and he arose and followed Him (Mark 2:12-13). 
The primary designation of the twelve disciples was to extend the Kingdom of God – to be trained by Jesus, (by word and example) and to go and minister in Word and power in Jesus' mighty name. 'Then He appointed twelve, that they might be with Him and that He might send them out to preach, and to have power to heal sicknesses and to cast out demons' (Mark 3:13-19).
Christ's call we must note, overrides convention and custom, family obligations and business commitments. The sons of Zebedee left their father, their boats and their business and, together with Simon and Andrew, set out to follow Jesus. His call upset their fishing careers but they went with Him to fish in larger waters and for a more important catch – people.

– Selwyn Hughes, founder of CWR
Jesus led independent short-term missions (STMs). The Bible mentions the first four disciples who went with Jesus on a STM (Mark 1:16-20), followed by the twelve disciples (Mark 3:13-19), and then the seventy disciples (Luke 10:1-17). Jesus began His extensive ministry of training with twelve handpicked disciples. These core men were with Him from the beginning.
Let us go into the next towns, that I may preach there also, because for this purpose I have come forth

– Mark 1:38
When Jesus sent the twelve disciples out on their first STM, He sent them in pairs, "He began to send them out two by two and gave them power over unclean spirits" (Mark 6:7). Jesus also sent the seventy out on STMs; they were close to Him, but not intimate as the twelve disciples, or very close as were the inner three, Peter, James and John, see Matthew 17:1, as only they were invited onto the mountain where they witnessed the transfiguration.
Jesus went through all the cities and villages, teaching in their synagogues, preaching the Gospel of the Kingdom and healing every sickness and every disease among the people

– Matthew 9:35
Paul's Fellow Labourers and Assistants
The apostle Paul was another great example of an independent STM-er, though he was called of the Holy Spirit and sent out by the church. He travelled to multiple destinations on his mission trips, staying varying lengths of time from one place to the next, depending on the reception he got! Paul travelled to many locations on three main missionary trips and had assistance and many helpers, travellers, companions and fellow labourers. 
Paul and Barnabas went on their first missionary journey around the area of Antioch, in modern-day Turkey, not to be confused with the city and the mission-sending Church called Antioch in modern-day Syria. They took John Mark with them (Acts 12:25 and Acts chapters 13-14). It was two senior Christians taking an inexperienced team member with them. Less than halfway through the mission at Pergia in Pamphylia, the third city they visited, Mark quit the mission and went home (Acts 13:13 and Acts 15:37-38), whilst Paul and Barnabas completed the entire trip to seven cities and were congratulated by the Antioch church, and gave their report (Acts 14:26-28).
The Church Council after reaching an important conclusion sent 'chosen men,' Paul and Barnabas, Judas (also known as Barsabas), Silas and other leading men to disseminate what the council had agreed (Acts 15:22-29). At Antioch, after the mission was completed, Silas felt led to stay on, whereas Judas was sent back to the home Church at Jerusalem (Acts 15:32-34).  
Once, Paul was part of a group of eight on a STM, though, they all met up at the final location – Troas, see Acts 20:5. So who were some of Paul's fellow STM-ers?
Sopater of Berea, Aristarchus and Secundus of the Thessalonians, Gaius of Derbe, Timothy, and Tychius and Trophimus of Asia, and Luke (Acts 20:4-6).
Titus, a STM partner and fellow worker (2 Corinthians 8:23).
Epaphroditus, my brother, fellow worker and fellow soldier (Philippians 2:25).
Various women who laboured alongside Paul in the Gospel, and Clement (Philippians 4:3).
Tychius, a beloved brother and fellow servant in the Gospel, Onesimus (the former slave, see Philemon v10), a faithful and beloved brother, Aristarchus a fellow prisoner, Mark the cousin of Barnabas, Jesus (who was called Justus) and Epaphras, a servant of Christ and a prayer warrior, Luke the physician and Demas (Colossians 4:7-14).
Silvanus and Timothy (1 Thessalonians 1:1).
Demas deserted Paul and went to Thessalonica, Crescens went to Galatia and Titus went to Dalmatia. Luke stayed with Paul and Paul sent Tychicus to Ephesus. Erastus stayed in Corinth and Trophimus was left in Miletus because he was unwell (1 Timothy 4:9-12, 20).
Paul teamed up with *Priscilla and Aquila (*wife and husband) in Corinth, and stayed with them, as both Paul and Aquila were from the same trade – tentmakers (Acts 18:1-3).
Paul left Titus in Crete, to tie up the loose ends and to appoint elders in every city (Titus 1:5).
Paul was going to send Artemas or Tychius to Titus, but wanted to meet him at Nicopolis, where he would spend the winter. He also asked for Zenas the lawyer and Apollos to be sent to him with haste and provisions (Titus 3:12-13).
Epaphras a fellow prisoner with Paul; Mark, Aristarchus, Demas and Luke, Paul's fellow labourers (Philemon verses 22-24).
Peace to you! As the Father has sent Me, I also send you

– John 20:21
Used with permission from How to Plan, Prepare and Successfully Complete Your Short-Term Mission by Mathew Backholer. Find out more about Mathew's books here.