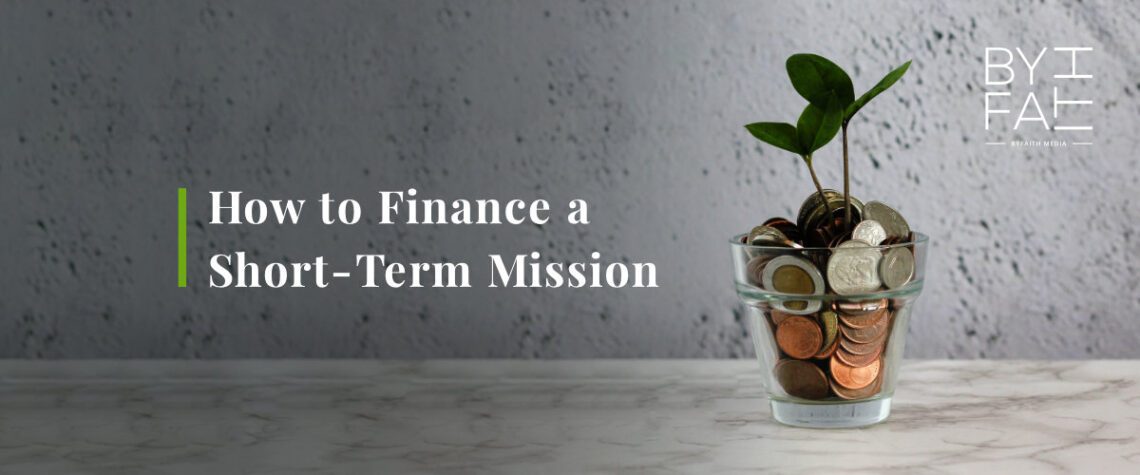 Financing Short-Term Missions
There are many ways and methods of raising support and obtaining your financial needs for your short-term mission (STM); some of which you may feel led to do, some of which you may feel prompted not to do and some of which you may disdain.
What is right for one person may not be right for others, and if you are an older person going on a STM there are some options, which a younger person would not hesitate to do, which are not fitting for an older person. There are many and varied views in regards to raising support and financing STMs, with good arguments for, and against, some of these methods. However, do not go into debt, by taking out a loan, putting it on a credit card or borrowing, as this is not an option to finance your STM.
Owe no one anything except to love one another, for he loves another has fulfilled the law

– Romans 13:8
If your local church sends you out on a STM then it is generally their duty and responsibility to pay for the mission, though not all churches have the resources (Romans 10:15 and 1 Timothy 5:8, 18). The apostle Paul received money from some churches to minister to others because he did not want to be a financial burden (2 Corinthians 11:7-9 and 2 Thessalonians 3:8). However, many churches would be delighted to assist any of their committed members to go on a STM; those who have proved faithful at home.
You do not test the resources of God until you attempt the impossible

– F.B. Meyer, Bible teacher
If you have been a receiver of spiritual things, it is your duty to help minister in material things, to continue the spread of the Good News (Romans 15:26-29, 2 Timothy 1:16-18 and 3 John 5-8). If you have more than enough, it is your duty to share (Luke 3:8-11 and 1 John 3:17-18). The disciples sent aid to the brethren living in Judea (Acts 11:29-30 and Romans 15:26-28). The phrase, 'Send them forward on their journey' (3 John 6), means to provide aid for travelling preachers. These helps can be: accommodation, recommendations, food and money etc. Inhospitality is condemned (3 John 9-11).
Seek first the Kingdom of God and His righteousness, and all these things shall be added unto you

– Matthew 6:33
God's work, done God's way, will not lack God's resources

– J. Hudson Taylor, founder of the China Inland Mission
Methods to Support Missions
1. The apostle Paul had a 'tentmaker' job for a time (Acts 18:1-3 and 2 Thessalonians 3:7-9). Paul tried to provide for his own necessities and for those that were with him (Acts 20:34-35).
2. On occasions, Paul asked various churches to 'help him on his way,' or 'send him on his journey' (Romans 15:24, 1 Corinthians 16:6 and 2 Corinthians 1:15-16 – financially etc.).
3. Paul asked the church to assist others such as Phoebe, a fellow labourer, 'in whatever business she has need of' (Romans 16:1-2). Paul also asked the church to assist other fellow labourers (1 Corinthians 16:10-11).
4. When Paul was in prison for preaching the Good News, Philemon's runaway slave, Onesimus, assisted him. Paul wrote: '…That on your behalf he might minister to me in my chains for the Gospel' (Philemon 13). Onesiphorus also 'ministered' – 'in many ways he helped me' (2 Timothy 1:18), to the incarcerated Paul in Ephesus as one who 'often refreshed me' which implies food and clothing (2 Timothy 1:16-18). The church at Philippi sent aid for Paul's necessities by the hand of Epaphroditus (Philippians 4:15-16), which was 'a sweet smelling aroma, an acceptable sacrifice, well pleasing to God.'
5. The gift of ministering or service from Romans 12:6-7 is a general ministry of helpfulness to others in an unobtrusive way, which could include giving of your time e.g. 'serving tables' and helping to distribute food as demonstrated in Acts 6:1-6.
6. Romans 10:15 says, 'How shall they preach unless they are sent?' When a church sends someone out on a STM then it is their duty to prayerfully and financially look after them, unless they have forewarned the STM-er that they have financial restraints.
God is able to make all grace abound towards you, that you, always having all sufficiency in all things, may have an abundance for every good work

– 2 Corinthians 9:8
How to Get Money for your Short-Term Mission
1. Pray, pray, pray. Ask God to move people to send you money. You can either keep quiet and tell only God your needs or pray and inform others at the same time.
2. Use some or all of your savings. However, this does hinder others from being a financial blessing to your STM.
3. Ask your church to help support you. Asking a small church to entirely finance your mission is unethical when they support the church little and/or are well-off themselves.
4. Ask your parents or family for a contribution. They may not be impressed by your decision to go on a STM or could greatly surprise you by their delight that you are doing something you believe in. They may be glad to see the back of you for a few weeks or months!
5. Carry out various sponsored events to help raise support – sponsored walk, cycle ride or swimming etc.
6. Make items to sell, baking cakes, bread or bird boxes etc. Can you have a yard sale? Do you need a permit?
7. Sell items which you no longer need – your car, sports equipment, jewellery, computer games, books etc.
8. Get a part-time job or do some overtime/extra hours. Save up over many months.
9. Offer your services to clean cars, dig the garden, sweep the yard or babysit etc.
10. Any combination of the above, though you should always try to get your local church onboard, as you are part of the local family of God and your endeavours can stir others to be obedient to the Great Commission and raise prayer support.
Whatever you feel led to do, wrap it up in much prayer and ask God's blessing on the endeavour, and do it with all your might as unto the Lord.
My God shall supply all your need according to His riches in glory by Christ Jesus

– Philippians 4:19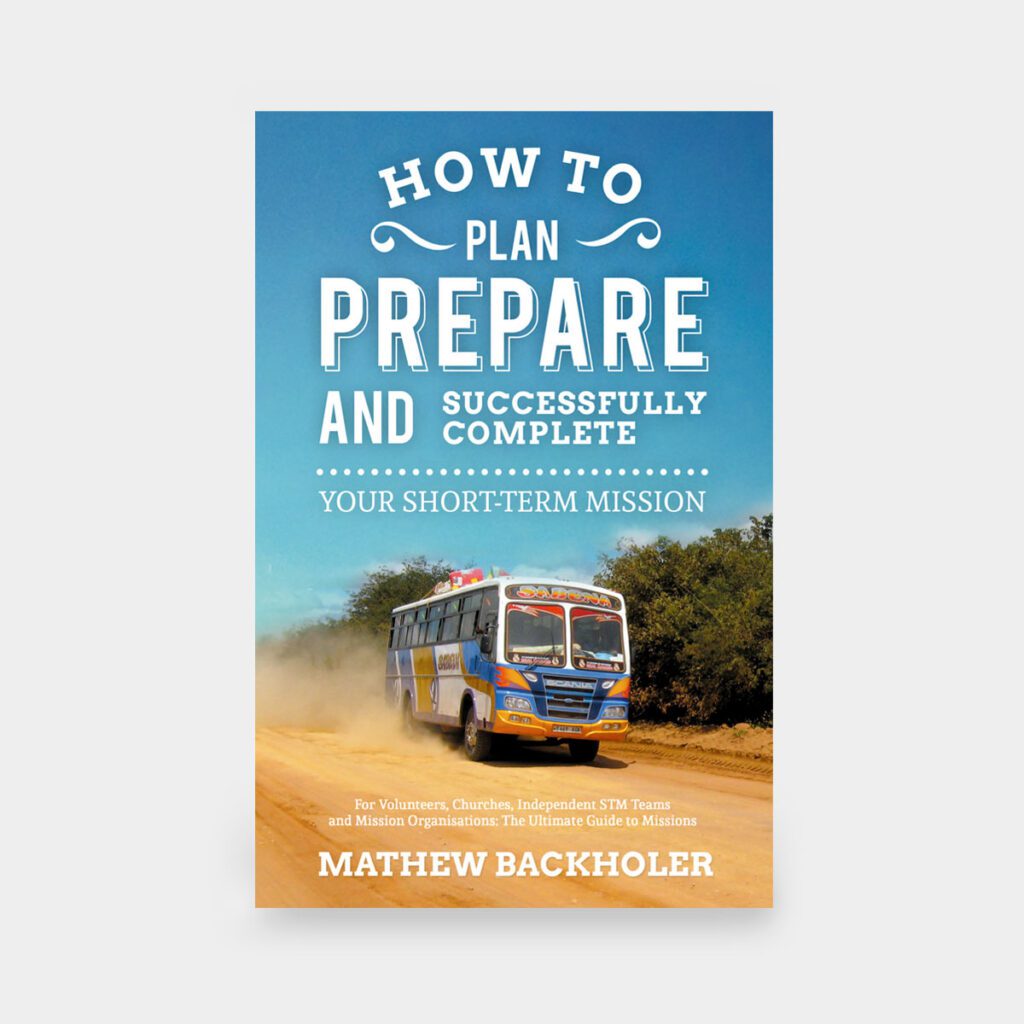 Jesus was teaching a huge crowd of people and having compassion for them, He wanted to feed them. He delegated this duty to the disciples. They found a lad who had five barley loaves and two small fish, which were miraculously multiplied to feed more than five thousand men, besides women and children (Matthew 14:13-21 and John 6:1-14). On another occasion, four thousand men were fed, besides women and children with seven loaves and some fish (Matthew 15:32-39). In other words, God can provide for your needs. In the case of the feeding of the five thousand, the disciples asked a young lad if they could have his large 'lunch' so that Jesus could use it. What is in your hands that Jesus can use to help finance your STM?
When I sent you without money bag, sack and sandals, did you lack anything?" So they said, "Nothing"

– Luke 22:35
Used with permission from How to Plan, Prepare and Successfully Complete Your Short-Term Mission by Mathew Backholer. Find out more about Mathew's books here.