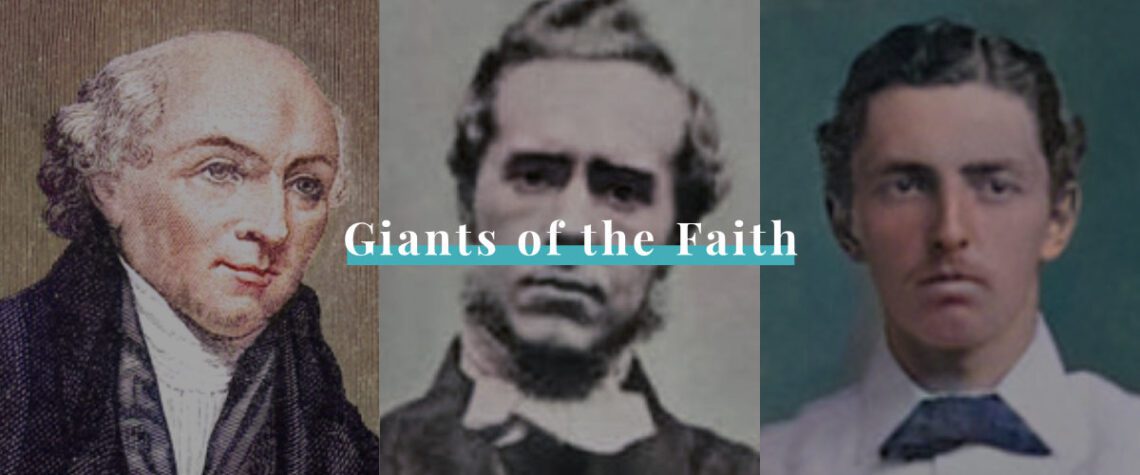 Missionary Giants of the Faith – William Carey, Hudson Taylor & C.T. Studd
Towards the end of 1786, twenty-five-year-old shoe-maker, William Carey, accompanied by another minister went to a meeting of ministers at Northampton, England, where towards the end, the two men were told to propose a question for general discussion. Carey pleaded many excuses until he finally gave in and asked, "Whether the command given to the apostles to 'teach all nations,' was not obligatory on all succeeding ministers to the end of the world, seeing that the accompanying promise was of equal extent?" The ministers were not impressed with his question or his observation!
If it be the whole duty of all men, where the Gospel comes to believe unto salvation, then it is the duty of those who are entrusted with the Gospel to endeavour to make it known among all nations for the obedience of faith.

– William Carey
On 2 October 1792, at the first available meeting of ministers at Kettering, England, a plan had been prepared 'for the purpose of forming a society for propagating the Gospel among the heathen.' The Society and its motto were: 'Expect great things from God – Attempt great things for God,' inspired by the verses from Isaiah 54:2-3 in the Authorised Version of the Holy Bible. Thus, the Baptist Missionary Society was founded and William Carey sailing for India in June 1793, became the 'Father of Modern Missions.' He had told his friends and fellow ministers that he expected them to "hold the ropes" – in prayer and finances and Andrew Fuller became the first secretary of the Baptist Missionary Society.
God had an only Son and He made Him a missionary

– Dr. David Livingstone, missionary explorer to Africa from the 1840s
In 1812, Adoniram Judson and his wife sailed for India and by 1814 they were in Burma (Myanmar). Judson was looked upon as obstinate and chimerical fanatic (wildly fanciful imagination) for labouring in such a place, but he was upheld by the faith that years afterwards inspired his famous reply when asked of the prospects of the conversion of the heathen, "As bright as the promises of God." In June 1819, they baptised their first convert, Moung Nau and in the same year, they built their first chapel. Within five months, seven more Burmese were baptised including, Mah-men-la, the first Burmese Christian woman.
Bill Bright was the founder and leader of Campus Crusade for Christ (CCFC). At the year of his death in 2003, CCFC had 26,000 full-time staff and more than 225,000 trained volunteer staff in 191 countries, in areas representing 99.6% of the world's population. From 1953-2003, CCFC had given approximately 6 billion exposures to the Gospel worldwide, through various means and methods. Bill Bright said, "There is no higher calling or greater privilege known to man than being involved in helping fulfil the Great Commission," and short-term missions (STMs) help fill this gap.
My brothers and sisters in Christ, we have been bought with a price: the blood of the holy Creator God of the universe. We are called by God to maintain our first love, to obey His commands to love others, and to tell others how much He loves and cares for them. The God-man, Jesus of Nazareth, has commissioned us to help take His Gospel to the ends of the earth. Let us fulfil the Great Commission…

– Bill Bright, founder and leader of Campus Crusade for Christ (CCFC)
Bill Bright was focused on Jesus Christ and the Great Commission and he never strayed from that heavenly vision. He said that when he got up each morning, he evaluated all the potential activities of that day based on the question: "Will it help fulfil the Great Commission?" He was a workaholic for Jesus until the end. He was never concerned about dying and always said it was a "win-win" situation for him. He said, "If I stay, I will continue to be able to serve my Lord, and if I leave, I will be with Him." For most of his life, he signed every piece of correspondence with these words: "Yours for fulfilling the Great Commission in this generation."
The Great Commission is not an option to be considered, it is a command to be obeyed.

– J. Hudson Taylor, the founder of the China Inland Mission
Used with permission from How to Plan, Prepare and Successfully Complete Your Short-Term Mission by Mathew Backholer. Find out more about Mathew's books here.