"The sons of Issachar who had understanding of the times, to know what Israel ought to do" (1 Chronicles 12:32).
In early 2020, the Holy Spirit spoke to Paul Backholer about the 2020s, warning him this decade will endure a period of unfolding crises, each pushing the world closer to chaos. This was the beginning of Paul receiving global prophetic insights to be made public and published at ByFaith.org for accountability.
"The Bible teaches we know in part and prophesy in part," said Paul Backholer, "and prophecy can be like a giant puzzle or a painting reflected in a hazy mirror (1 Corinthians 13:9, 12). God wants us to search and question what He is revealing because it's in this struggle to understand His will that we take His prophetic word seriously."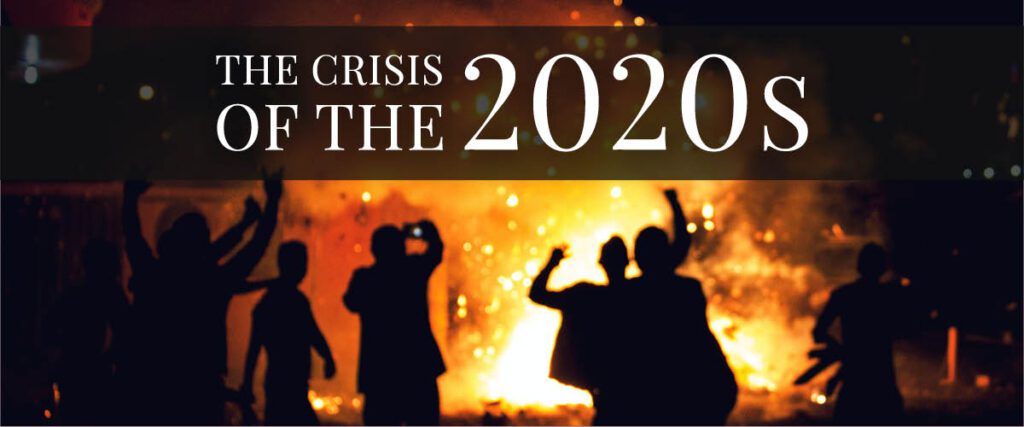 Paul wrote what the Holy Spirit revealed and released this first prophetic article on 1 January 2021, when optimism was growing in the West. It didn't appear to be a good time to publish a prophetic bulletin warning of unprecedented economic pressures ahead, with trust in money, governments, stock markets, business and globalisation falling.
At the time, politicians promised that the good times were ahead with the roaring twenties returning, and then stock markets flourished, employment returned and business boomed. Meanwhile, the Holy Spirit told Paul it was all a lie based upon money printing (quantitative easing) and shocking government debt. The prophetic warning was conveyed because the Bible warns, 'No servant can serve two masters; for either he will hate the one and love the other, or else he will be loyal to the one and despise the other. You cannot serve God and mammon' (Luke 16:13).
In Paul's article on 1 January 2021, he wrote, 'We have trusted in money instead of the Lord. Expect a global economic crisis,' declaring the promise of the roaring economy will turn into a 'Greater Depression.' This is a period of economic shock, recession and stagnation, with living standards falling, as economies remain smaller than normal and struggle with sluggish growth. The economy is thus depressed.
Writing in the summer of 2022, the world that existed when Paul wrote his article in 2020 is gone forever. Reckless money printing created runaway inflation, as trust in money failed. Government debts have ballooned and China's economy is depleted. Trust in the U.S. President collapsed to an all-time low and politicians presently don't have any other answers than to print more money and borrow, burying us into deeper debt and inflation. Meanwhile, the 'Green Revolution' encouraged by the rich has created an energy shortage, which worsened when war returned to Europe. Trust in man is flawed!
Globalisation therefore seized and the world order established in 1945 and solidified with the collapse of the Soviet Union died. The global hegemony of the West in a unipolar world is giving way to a world split between the West and its sphere of influence, versus the multipolar vision of China and Russia. According to the revelation Paul received, this is just the beginning of the troubles of the 2020s. Look out for riots, strikes and chaos.
"The critical thing about prophecy is never to add to, nor take away from what the Spirit of God has told you," said Paul Backholer. "It's easy to put your spin on the word you receive and add to the revelation without realising it."
Whilst Jesus promises, "My sheep hear My voice" (John 10:27), we must not presume to hear more if we ignore what was received. Scripture is our guide and the Holy Spirit does not contradict His revealed Word, the Bible (1 Corinthians 2:10, 2 Timothy 3:16, 2 Peter 1:21). Prophecies must be received, contemplated, acted upon and sometimes prayed into being.
"Another great mistake believers commit with prophecies is the presumption of adding 'your timeline' to a prophetic word," said Paul Backholer. "God will not be bound by our limited interpretation of the times and seasons." In the 2013 ByFaith Media book Prophecy Now, the author prophesied about empty stadiums which came to pass during the 2020 Coronavirus lockdowns.
The purpose of prophecy is to reveal God's will, lead us back to Him and place Christ on the throne of our hearts, but ByFaith Media is not seeking to respond to those looking for personal prophecies.
"We don't expect to be publishing new prophetic articles regularly," said Mathew Backholer, "because the first article covered a ten-year period and we are observing it unfold, but other revelations have been released."
You can read the prophetic bulletin articles revealed to Paul Backholer and his commentary on world events, based upon God's revelation at ByFaith.org. The End Times are upon us.