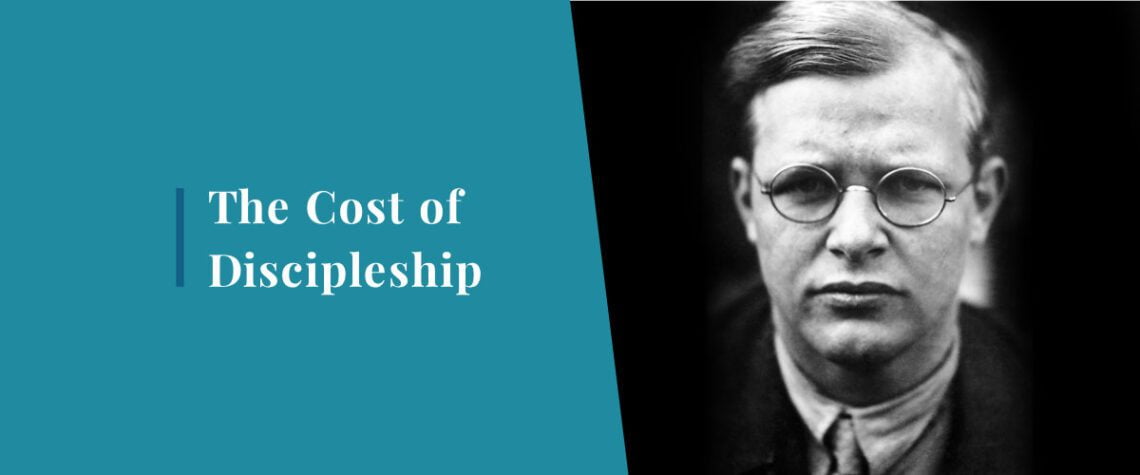 The Cost of Discipleship by Dietrich Bonhoeffer
Dietrich Bonhoeffer willingly died at the hands of the Nazis in 1945 and as a result of his sacrifice, his writings continue to have a profound impact. He fully embodied his teachings on costly grace, sacrifice, and discipleship.
When Christ calls a man, he bids him come and die

– Dietrich Bonhoeffer, The Cost of Discipleship
Born in 1906, in Breslau, then Germany, Bonhoeffer loved his nation, but came to believe Germany had to be destroyed to deliver it from the plague of Nazism. Noted as a significant theologian of his time, Christians in Britain and the United States succeeded in enticing him safely abroad, but to help rebuild Germany after the war, he felt he needed to suffer with it first.
The time is coming when the confession of the living God will incur not only the hatred and the fury of the world, for on the whole it has come to that already, but complete ostracism from 'human society,' as they call it

– Dietrich Bonhoeffer, The Cost of Discipleship
Bonhoeffer with his circular glasses, altruistic rotund face and the glance of a benevolent professor, packed his bags willingly and returned to fascist Germany. He knew it could cost him everything, but cheap grace was unknown to him.
To make non-resistance a principle for secular life is to deny God, by undermining his gracious ordinance for the preservation of the world. But Jesus is no draughtsman of political blue-prints; He is the one who vanquished evil through suffering. It looked as though evil had triumphed on the cross, but the real victory belonged to Jesus. And the cross is the only justification for the precept of non-violence, for it alone can kindle a faith in the victory over evil which will enable men to obey that precept

– Dietrich Bonhoeffer, The Cost of Discipleship
At 288 pages long, his signature classic, The Cost of Discipleship, first published in 1937, takes up to seven hours to read. It is a unique blend of biblical exegesis, pastoral advice and the challenge of discipleship. He begins by targeting cheap grace. When we water down Jesus' teaching on discipleship, we enter a counterfeit faith. Following Jesus costs and if it doesn't, what Jesus are you following? The one you imagined.
Cheap grace is the deadly enemy of our Church. We are fighting today for costly grace…Cheap grace is the preaching of forgiveness without requiring repentance…Cheap grace is grace without discipleship, grace without the cross, grace without Jesus Christ, living and incarnate

– Dietrich Bonhoeffer, The Cost of Discipleship
The Cost of Discipleship provides a stark contrast to the teaching of popular preachers today, who proclaim that Jesus represents a path to wealth, blessing and influence. His moving prose provoke, but his book can be a tough read. Parts of it feel like preaching at church, at other times, a scholarly work of hermeneutics. As an intellectual, he quotes Latin and Greek expecting all to understand.
Wading through the pages of this book restores memories of Bible College lectures, but this time with Bonhoeffer speaking erudite theological truths. You can sense his cognitive processes developing and then, he's back at the pulpit declaring a digestible truth that can be applied without confusion.
The grace of His call bursts all the bonds of legalism

– Dietrich Bonhoeffer, The Cost of Discipleship
Readers of The Cost of Discipleship deliver contrasting reviews. Some say it changed their life and transmitted a refreshing ice-cold dunking in faith; others regard it as a tough book with repetition and poor readability. It wades through an extensive exposition of the Sermon on the Mount, and in the last few chapters of the book suddenly shifts tone and style, from Bonhoeffer's teaching to complex theology, including a considerable number of Scriptural references and biblical quotes to convince the reader.
I imagined an inspirational book but found it part theology, counselling, pastoral advice, question and answer and then expounding Scripture verse by verse. Concerning pastoral advice, he gives plenty of guidance on serving a believer to forsake his or her sin, then, many chapters later, he teaches on Church discipline and the purpose of ex-communication.
If a brother falls into open sin in word or deed, the Church must have sufficient authority to bring formal disciplinary action against him. This also is a lengthy process. The Church must first of all overcome its reluctance to withdraw from communion with the sinner

– Dietrich Bonhoeffer, The Cost of Discipleship
One task of an editor is to invite the author to ponder who the reader will be and to encourage him or her to focus on the chosen audience. In this book, it's not scrutable who the reader should be. The style of C.S. Lewis transforms for his audience from the penetrable text of Mere Christianity to the complexity of Till We Have Faces. It's this confusion which scuppers some Christians when reading The Cost of Discipleship and has mired their learning. Some declare they were glad to finish it, others say they couldn't. But there's a significant number who say it's filled with jewels you must search for. Certainly, selective quotes are gems.
Grace and active obedience are complementary. There is no faith without good works and no good works apart from faith

– Dietrich Bonhoeffer, The Cost of Discipleship
As well as addressing pastoral issues, Bonhoeffer focuses on how the congregation of working Christians must respond to Christ's call to give up all and follow Him.
What about Lazarus? He was raised from the dead. He [Jesus] did not call them to leave their work and follow Him, but instead he left them at home with their families and their jobs

– Dietrich Bonhoeffer, The Cost of Discipleship
Those who only read books about their own church doctrine may struggle with Bonhoeffer. But with the threat of Nazism to extinguish all Christianity, he felt Christian unity was more important than squabbles. In a life and death situation, faith in Christ becomes all. Believers of all denominations and backgrounds embrace him.
Does not our preaching contain too much of our own opinions and convictions, and too…Let us try to get away from the poverty and pettiness of our own little convictions and problems, and seek the wealth and splendour…When the Bible speaks of following Jesus, it is proclaiming a discipleship which will liberate mankind from all man-made dogmas, from every burden and oppression

– Dietrich Bonhoeffer, The Cost of Discipleship
Bonhoeffer lived for Christ and the redemption of Germany from the Nazi system. Some designate him as a spy because he was familiar with the plots to assassinate Hitler and he gave information to the British government about the resistance movement in Germany, through his contact, the Bishop of Chichester. His theology developed over time and transformed from spiritual pacifism to Christian resistance, as the Nazi system grew harsher.
If I sit next to a madman as he drives a car into a group of innocent bystanders, I can't, as a Christian, simply wait for the catastrophe, then comfort the wounded and bury the dead. I must try to wrestle the steering wheel out of the hands of the driver

– Dietrich Bonhoeffer
The testimonies of those who saw Bonhoeffer in prison speak of an honest, quiet and faithful Christian. In Letters and Papers from Prison, Bonhoeffer said, "May God in His mercy lead us through these times; but above all, may He lead us to Himself." Despite knowing his life was at stake, Bonhoeffer declared to forgive another is to share in the suffering of Christ. We don't forgive because we feel like it, but because it is a manifestation of the Lord's grace through us.
Thus the call to follow Christ always means a call to share the work of forgiving men their sins. Forgiveness is the Christlike suffering which it is the Christian's duty to bear

– Dietrich Bonhoeffer, The Cost of Discipleship
Just a few days before the Allies liberated Flossenbürg Concentration Camp, the Nazis executed Bonhoeffer on 9 April 1945, on the personal orders of Heinrich Himmler. Did Bonhoeffer regret his choice to suffer for the sake of Christ?
Silence in the face of evil is evil itself… Not to speak is to speak. Not to act is to act

– Dietrich Bonhoeffer
In The Cost of Discipleship, Bonhoeffer expounds on the Beatitudes, agreeing that the 'meek shall inherit the earth.' Yes, heinous governments may force their will on people for a season, but in the end, the masses will remember and follow the example of the merciful. Christ and His martyrs ultimately laid the foundation for a better world of rights and liberty.
We are not to simply bandage the wounds of victims beneath the wheels of injustice, we are to drive a spoke into the wheel itself

– Dietrich Bonhoeffer
An eyewitness to his death said, "Through the half-open door in one room of the huts I saw Pastor Bonhoeffer, before taking off his prison garb, kneeling on the floor praying fervently to his God. I was most deeply moved by the way this lovable man prayed, so devout and so certain that God heard his prayer. At the place of execution, he again said a short prayer and then climbed the steps to the gallows, brave and composed. His death ensued after a few seconds. In the almost fifty years that I worked as a doctor, I have hardly ever seen a man die so entirely submissive to the will of God"- H. Fischer-Hüllstrung
Death represents the price Bonhoeffer was prepared to pay to follow His master to the end, saying, "The cross means sharing the suffering of Christ to the last and to the fullest."
Salvation is free, but discipleship will cost you your life

– Dietrich Bonhoeffer
By Paul Backholer. Find out about Paul's books here.