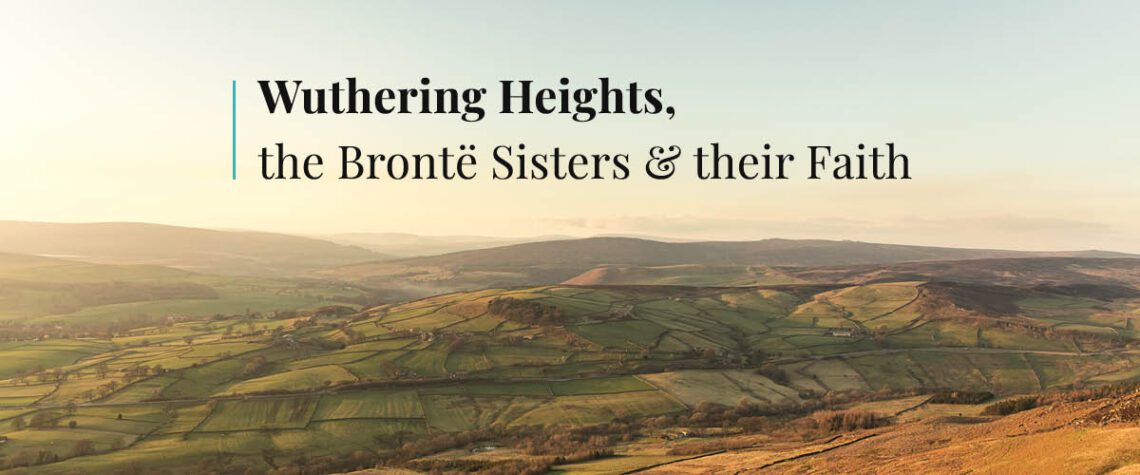 Wuthering Heights, Heathcliff, the Brontë Sisters, and their Faith in the Bible and Christianity
He shall be a wild man; his hand shall be against every man and every man's hand against him

– Genesis 16:12
'Treat a man like a dog and he'll become one,' could be the maxim of the 1847 novel Wuthering Heights by Emily Brontë. Concerning all the villains of literature, Emily Brontë's Heathcliff is one of the most disconcerting. Was he born or made malevolent? Victim or unregenerate perpetrator?
Wuthering Heights is a tragic love story between Heathcliff and his childhood love Cathy, set on the ghostly Yorkshire Moors, amid a brooding culture of revenge. The author Emily Brontë provides scant detail about the mysterious origins of Heathcliff; in his character, she reveals an expanse of understanding of the troubles of the soul, and the nature of cruelty and its effects upon the subconscious. You can form a villain with heartlessness. She poses this question about his mysterious upbringing:
Who knows but your father was Emperor of China, and your mother an Indian queen, each of them able to buy up, with one week's income, Wuthering Heights and Thrushcross Grange together? And you were kidnapped by wicked sailors and brought to England

– Wuthering Heights by Emily Brontë, p.39, Thomas Cautley Newby
We're often given the impression that the famous Brontë sisters Charlotte, Emily and Ann, were recluses wondering the Yorkshire Moors like the tragic souls Heathcliff and Cathy. In fact, they lived in the village manse in Haworth, England, with their father Patrick, who was the Anglican clergyman, their Aunt Elizabeth and a troubled brother. It was a humble village and they would have been well known.
All the girls were educated in various schools and at home, and all had experience as governesses and teachers. There were moreover a few enigmatic romances and living overseas in Brussels for Charlotte and Emily. Christians they were, naïve they were not.
The Brontë sisters accentuate their depth of perception about the struggles of life in their characters. There's no naivety about Heathcliff and his cryptic motivation. It makes us wonder who was the inspiration? Was it their harsh grandfather Hugh or an exaggerated version of their drunken brother Branwell?
In the Brontë sister's private writings, journals and poems, and in their books, they express a profound insight into the Christian faith. Some have misunderstood their criticism of religious people as a critique of faith itself. They disliked the spirit of the Pharisee, not the Spirit of Christ.
He was, and is yet most likely, the wearisomest self-righteous Pharisee that ever ransacked a Bible to rake the promises to himself and fling the curses to his neighbours

– Wuthering Heights by Emily Brontë, p.28, Thomas Cautley Newby
In their writings, they encourage the virtues of Christian living and warn of the self-inflicted punishment of rebellion against God. Heathcliff's downward spiral is a warning to all and could be a lesson to many today who are living against their own ultimate good. Cathy or Catherine, on the other hand, had moved on from the wild youth and became a content woman, until the tragic return of Heathcliff from overseas.
'For shame, Heathcliff!' said I. 'It is for God to punish wicked people; we should learn to forgive.'

– Wuthering Heights by Emily Brontë, p.41, Thomas Cautley Newby
In the story, their servant Joseph speaks of the power of the redemption of the soul and the virtue it brings to be saved from the fire of one's sins.
Joseph affirms he's sure he's an altered man: that the Lord has touched his heart, and he is saved "so as by fire."

– Wuthering Heights by Emily Brontë, p.120, Thomas Cautley Newby.
In Wuthering Heights, I have identified 110 references to Christian themes and ideas. The Brontë sisters were thoroughly versed in Scripture and the culture of an active church. After a rigorous analysis of all the different souls and motivations of the characters in Wuthering Heights, Emily Brontë concludes Heathcliff's problems stem – not from his upbringing – but from his refusal to live by Christian values. He disavowed forgiveness and refused to put the past behind; it was this self-inflicted injury that robs him of peace and a bright future.
'You are aware, Mr. Heathcliff,' I said, 'that from the time you were thirteen years old you have lived a selfish, unchristian life; and probably hardly had a Bible in your hands during all that period. You must have forgotten the contents of the book, and you may not have space to search it now. Could it be hurtful to send for some one—some minister of any denomination, it does not matter which—to explain it, and show you how very far you have erred from its precepts; and how unfit you will be for its heaven, unless a change takes place before you die?'

– Wuthering Heights by Emily Brontë, p.229, Thomas Cautley Newby
Wuthering Heights is a challenging read, filled with discomfort and distress. At an eight hour read, it can feel self-indulgent, but people possess an entanglement of motivations and we need time to understand them. It's one of the first classic novels to address mental health issues. The two virtues I recognise in the book represent the intense complexity of the soul and our great need for transformation by a Redeemer, Jesus Christ, our Lord.
By Paul Backholer. Find out about Paul's books here.