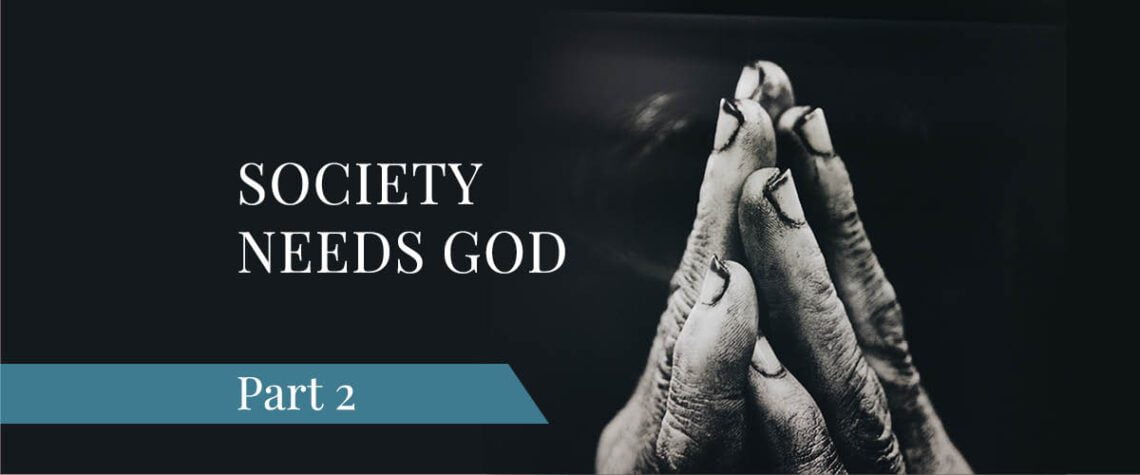 Society Needs God, Part 2. Truth is Being Erased and Good is now Called Evil
O Lord, though our iniquities testify against us, do it for Your name's sake; for our backslidings are many, we have sinned against You

– Jeremiah 14:7
God will forgive our sin and heal our land. This is the double promise of 2 Chronicles 7:14. It is the reason for repentance – restoration. God sees where we've gone wrong and promises blessing, but first we must do our part and repent.
Today, the nations of the world and society in general are in a dangerous predicament. When God is ignored, put to the back or even pushed out of society, then other spirits with an evil agenda may come in to try and rule. The question is, will the Church, the body of Christ stand up and spiritually fight in prayer?
The apostle Paul wrote: 'To the intent that now the manifold wisdom of God might be made known by the Church to the principalities and powers in the heavenly places, according to the eternal purpose which He accomplished in Christ Jesus our Lord' (Ephesians 3:10-11).
Is this not what we are called to do? To stand in the gap on behalf of the land and its citizens? Are we not meant to be light and a city on a hill to lead people to the foot of the cross? To see the crucified Saviour and then the risen Christ in all His glory and splendour? Will we run and flee in the spiritual fight? The children of Ephraim were armed and sadly turned back in the day of battle. Will you? They did not keep the covenant of God; they refused to walk in His law and forgot His works (Psalm 78:9-11). Have you?
'Be strong in the Lord and in the power of His might. Put on the whole armour of God that you may be able to stand against the wiles of the devil. For we do not wrestle against flesh and blood, but against principalities, against powers, against the rulers of the darkness of this age, against spiritual hosts of wickedness in the heavenly places. Therefore take up the whole armour of God, that you may be able to withstand in the evil day, and having done all, to stand' (Ephesians 6:10-13).
6. Has the Boundary Stone of Truth been Moved?
Some people try to move the boundary stone of truth which our forefathers established and lived by. The Word of God states: 'Do not remove the ancient landmark which your fathers have set' (Proverbs 22:28), and 'Do not remove the ancient landmark…' (Proverbs 23:10).
'If the foundations are destroyed, what can the righteous do?' (Psalm 11:3). We can fast and pray! 'Whoever causes the upright to go astray in an evil way, he himself will fall into his own pit…' (Proverbs 28:10). Jesus Christ said, "Whoever causes one of these little ones who believe in Me to sin, it would be better for him if a millstone were hung around his neck and he were drowned in the depth of the sea" (Matthew 18:6). Sobering words indeed and serious responsibility for all believers.
7. Is Evil Called Good and Vice Versa?
'Woe to those who call evil good and good evil; who put darkness for light and light for darkness; who put bitter for sweet and sweet for bitter!' (Isaiah 5:20), see also verses 21-25. Morals have been turned on their head by political correctness. People are unaware of what is right or wrong, whilst some deliberately try and pervert justice and truth. '…In that you say, "Everyone who does evil is good in the sight of the Lord and He delights in them…" ' (Malachi 2:17).
Remember, 'Whoever rewards evil for good, evil will not depart from his house' (Proverbs 17:13). 'He who justifies the wicked and he who condemns the just, both of them alike are an abomination to the Lord' (Proverbs 17:15).
8. Is there No Shame, No Remorse?
'This is the way of an adulterous woman; she eats and wipes her mouth, and says, "I have done no wickedness" ' (Proverbs 30:20). There is no shame or remorse for breaking God's law. People have hardened their hearts and seared their consciences as with a hot iron. 'There is a way that seems right to a man, but its end is the way of death' (Proverbs 14:12). 'The lips of the wise disperse knowledge, but not those of a fool' (Proverbs 15:7).
9. Is A Sinful Lifestyle Condoned or Condemned?
We should always love people, but should not love sinful lifestyles. 'Those who forsake the law praise the wicked, but such as keep the law contend with them' (Proverbs 28:4). If you break or forsake God's law then you condone sin, whereas your godly lifestyle should condemn evil people as they themselves often desire to be better than they are. They may begin to feel guilty or come under conviction. Godly lives should be a testament against evildoers. Jesus said in relation to the world, "…It hates Me because I testify of it that its works are evil" (John 7:7).
'…He who is upright in the way is an abomination to the wicked' (Proverbs 29:27). Thus says the Lord of hosts, "To whom shall I speak and give warning, that they may hear? Indeed their ear is uncircumcised and they cannot give heed. Behold, the word of the Lord is a reproach to them; they have no delight in it" (Jeremiah 6:10).
10. Is a Godly Lifestyle Being Mocked?
'Fools mock at sin…' (Proverbs 14:9), and 'to do evil is like sport to a fool…' (Proverbs 10:23). When Christians are faced with this we must be wise. 'So then, my beloved brethren, let every man be swift to hear, slow to speak, slow to wrath; for the wrath of man does not produce the righteousness of God' (James 1:19-20).
'An unjust man is an abomination to the righteous and he who is upright in the way is an abomination to the wicked' (Proverbs 29:27). Thus says the Lord of hosts, "Will you steal, murder, commit adultery, swear falsely, burn incense to Baal and walk after other gods whom you do not know, and then come and stand before Me in this house which is called by My name, and say, 'We are delivered to do all these abominations?' " (Jeremiah 7:9-10).
'Lord who may abide in Your tabernacle? Who may dwell in Your holy hill? He who walks uprightly and works righteousness, and speaks the truth in his heart; he who does not backbite with his tongue, nor does evil to his neighbour, nor does he take up a reproach against his friend' (Psalm 15:1-3).
Society Needs God, Part 3. Is there Justice and Order? Are we Praying for God to Intervene?
By Mathew Backholer.
Mathew Backholer is a revival historian, author and TV presenter. If you want to know more about revival, you can find his books or watch his programmes on streaming services, etc.