Rees Howells' Ongoing Legacy
'We will not hide them from their children, telling to the generation to come the praises of the Lord, and His strength and His wonderful works that He has done' (Psalm 78:4).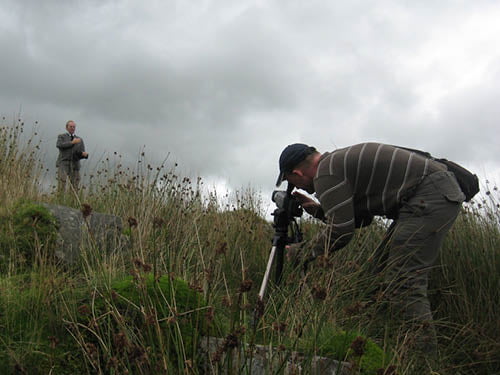 The legacy of Rees Howells and the powerhouse of intercession at his Bible College in Swansea, Wales, touched the lives of millions of people. Brothers Paul and Mathew Backholer arrived at Rees Howells' Bible College in the late 1990s, whilst the ministry was being led by Rees' only son, Samuel Rees Howells. In their first year, Reinhard Bonnke, a former student returned to film his life story reaching millions for Christ and testifying of the impact Samuel Rees Howells had upon him.
"As young Bible College students it didn't dawn on us, we were witnessing the sunset of the Howells' ministry," said Mathew Backholer. "Founded in 1924, Rees Howells led the Bible College of Wales until he died in 1950, though he prepared Samuel for many years to take over the entire ministry, which he did from 1950 to 2004."
Staff members at the Bible College included many elderly people who prayed alongside Rees Howells from the 1930s and continued with Samuel. "My brother and I were keen to get to know the intercessors and to listen to their testimonies, recording them for posterity," Mathew said.
After several years of living inside this Christian community, first as students and then as staff, the elderly prayer-warriors sensed the brothers earned their confidence and invited them into the inner sanctum of trust.
"The impact of Rees Howells' life and ministry made a powerful impression upon these intercessors," said Mathew's brother Paul. "They shone with joy and occasional tears recalling the power of Rees Howells' presence and prayers."
The brothers were keen to document their experiences, not knowing how important they would become in decades to come. "We were busy on the mission field after Bible College days," said Mathew, "and there we received news of those who knew Rees passing into glory. They were our friends and confidants. A few decades pass and you realise the firsthand witnesses to this powerhouse of intercession are moving to glory at speed."
Alan K. Scotland took over the reins of the ministry after Samuel Rees Howells retired and urged the former Bible College Director Richard Maton to chronicle Samuel's life in a book. After years of writing, Richard was keen to get the book published and tried traditional routes which failed.
During Mathew's daily devotions, the Holy Spirit spoke with clarity, "I want you to publish Mr Maton's book." Mathew waited upon the Lord and shared the word he received from God in His timing. After a period of waiting and testing, Alan K. Scotland and Richard Maton confirmed that Global Horizon's wanted ByFaith Media to publish the book.
"We were in China at the time meeting with persecuted Christians," said Mathew. "We read the manuscript and began making notes. What became clear over the months ahead was the enormous amount of material available concerning Samuel Rees Howells. We needed two books to tell this story and other Rees Howells related books could follow."
Dusty archives opened with pages of teaching and old photos of Rees Howells emerged. "We began the process of converting these images to get them ready to go into the books and transcribed important teaching," said Paul.
Two books emerged from the initial research, Samuel, Son and Successor of Rees Howells and Samuel Rees Howells: A Life of Intercession by Richard Maton, with significant contributions by the brothers. God Challenges the Dictators (13 February 2020) by Rees Howells and Mathew Backholer was the next book from the legacy published on the anniversary of Rees Howells' death. Followed by Rees Howells' God Challenges the Dictators by Mathew Backholer (10 October 2020), on the anniversary of Rees Howells' birth. Then in November 2021, for the 80th anniversary of BCW's first Hymn Book Rees Howells, Vision Hymns of Spiritual Warfare, Intercessory Declarations by Mathew Backholer was published. Rees Howells, Life of Faith, Intercession, Spiritual Warfare & Walking in the Spirit by Mathew Backholer was launched on 1 November 2022.
The brothers walked onto the mountains where Rees Howells once prayed alone with God, finding spots he documented as important in his call. With an actor wearing a replica of Rees Howells' clothes, they shot several trailers for the books and released them. The reviews of the books have been a tremendous blessing, as the Lord's plan unfolded. "Now these books are available worldwide to whomsoever the Holy Spirit calls to open their heart and learn from this legacy," said Mathew.
ByFaith Media continues to share the inspirational legacy of Rees and Samuel Rees Howells through Social Media.
You can find the books concerning Rees and Samuel Howells here.