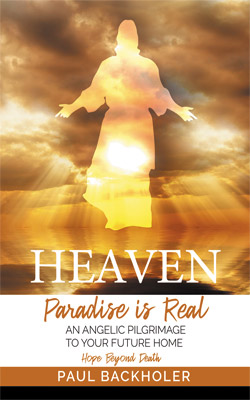 Order the book in our store
here
.
Heaven, Paradise is Real, Hope Beyond Death
An Angelic Pilgrimage to Your Future Home
Come on a journey to another world of eternal bliss, joy and light, in this enchanting narrative which pulls you in and shows you heaven. Meet those who have gone before into paradise and found eternal peace.

Enter into the heavenly Jerusalem, with a man and an angelic guide to discover the truth about immortality, the afterlife and the joy of eternity.

Discover the wonder of paradise, the Garden of Eden, the cloud of witnesses and be thrilled with loved ones reunited, with the hope of heavenly rewards.

Book Details

Size 9 x 6 inches (229mm x 152mm)
23 chapters
144 pages
ISBN 978-1-907066-80-1 (paperback)

eBook Details

ISBN 978-1-907066-81-8 (eBook)
Available on multiple eReaders.
Kindle, Kobo, Apple iBook, Nook, etc.




Order the book in our store here.



Contents
Introduction
Paradise
Three Visitors
A Golden Cottage
The Gate of Heaven
A Great Reunion
Millions of Angels
The Heavenly Body
A Change in our Nature
The Heavenly City
The First and the Last
A Matter of the Will
Back to Eden
Calvary
The Good Shepherd
The Ancient of Days
Hell
Free Will
The Kingdom of God
An Empty Soul
The Cloud of Witnesses
Number Your Days
Mary or Martha
Unbelief and Denial
About the Author
Paul Backholer is an evangelical author, broadcaster, explorer and missionary. He is the co-founder of ByFaith Media (www.ByFaith.org) and has appeared on Christian channels globally. As a faith-based documentary maker, he produces and co-presents ByFaith TV. Paul is the author of many books, including
The Baptism of Fire
,
How Christianity Made the Modern World
,
The Exodus Evidence
and
The Ark of the Covenant
. Paul studied theology at Bible College and has travelled to over forty nations working with Christian projects and charities.
Order the book in our store
here
.