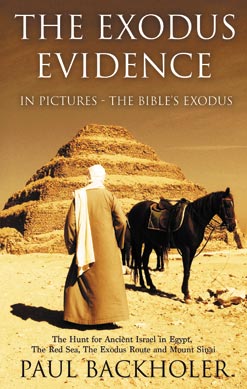 Order the book from our store
here
.



The Exodus Evidence - The Bible's Exodus by Paul Backholer.
The Hunt for Ancient Israel in Egypt, The Red Sea, The Exodus Route and Mount Sinai.


The search for proof: Can we find any archaeological data to validate the biblical account of Joseph, Moses and the Hebrew exodus from ancient Egypt?


---
Experience a Photographic Search for the Bible's Exodus. 100+ colour photos.
---
Has archaeology provided us with any data to indicate that Joseph, Moses and ancient Israel were in Egypt? What was the Red Sea, where was the exodus route and can Mount Sinai be found today? These are the questions that must be answered in this exciting photographic expedition in Egypt.

Join two authors and television broadcasters on their four year quest to investigate the mystery of the Hebrew exodus out of Egypt. Witness in full colour pictures, scenes of Semitic people with multi-coloured coats entering Egypt, find Semitic settlements in the Bible's land of Goshen and discover how archaeological finds combined with computer technology can help reveal the face of Joseph and the exodus pharaoh!

See photos of ancient slaves making bricks, discover how lost cities were found, plus enter the tombs and the temples of pharaohs. Hunt with our explorers as they search for the Red Sea, trace the possible exodus routes and watch as they examine the first reference to ancient Israel found outside of the Bible!



Search the Valley of the Kings
Enter the Lost City of Pi-Ramesses
Find Israel in Egyptian Hieroglyphics
Yam Suph - Red Sea or Sea of Reeds?
Perceive the Ancient Heritage of the Pyramids
Learn how Ancient Israel and Egypt Clashed
Discover the Buried City of Avaris and the Hyksos
Revealed - The Bible, Ancient Egypt and Archaeology
A direct, easy to read adventure with compact chapters

Book Details

8.5 x 5.5 inches (216mm x 140mm)
26 chapters
80 pages
100+ colour photos in the paperback edition
ISBN 978-1-907066-08-5 (2010 paperback)
ISBN 978-1-788220-00-2 (2018 paperback)
ISBN 978-1-907066-30-6 (eBook)

Twenty-Six Chapters

The Search for the Exodus
Why is there so much Scepticism?
The Story of Israel in Egypt
Ancient Egypt and the Bible
The Pyramids and Abraham
Joseph and His Multi-Coloured Coat
The Famine and Joseph as Prime Minister
Semitic Settlements in Avaris
Who were the Hyksos?
Is this the Face of Joseph?
The Lost Years of Moses in Egypt
Making Bricks - Semitic Slaves
The Lost City of Pi-Ramesses
Was Ramesses II the Exodus Pharaoh?
The Pharaoh of the Oppression
The Valley of the Kings and the First-Born Son
Seeing the Face of the Exodus Pharaoh
The Bible Plagues and Egyptian History
Where was the Red Sea?
Is Mount Sinai in Saudi Arabia?
The Exodus Route
Searching for Mount Horeb
Snowstorm on the Mountain of God
The Pharaoh who Fought Ancient Israel
Israel Found in Egyptian Hieroglyphics
Archaeology and the Exodus
ByFaith - In Search of the Exodus