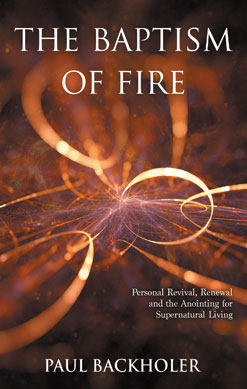 Order the book in our store
here
.
The Baptism of Fire
Personal Revival, Renewal and the
Anointing for Supernatural Living
Jesus will baptise you with the Holy Spirit and fire; that was the promise of John the Baptist. But what is the baptism of fire and how can you experience it? In this book, the author unveils the life and ministry of the Holy Spirit, shows how He can transform your life and what supernatural living in Christ means.

Discover how the Holy Spirit worked throughout Scripture and find testimonies of those walking in the Spirit today. Filled with biblical references, testimonies from heroes of the faith and the experiences of everyday Christians, you will learn that the baptism of fire is real and how you can receive it!

Book Details

Size 9 x 6 inches (229mm x 152mm)
47 chapters
150 pages
ISBN 978-1-907066-56-6 (paperback)

eBook Details

ISBN 978-1-907066-57-3 (eBook)
Available on multiple eReaders.
Kindle, Kobo, Apple iBook, Nook, etc.




Order the book in our store here.



Contents
Introduction
Meeting the Holy Spirit
The Spirit wrote the Bible with People's Lives
The Conviction and Seal of the Holy Spirit
The Spirit and the Prophets
The Baptism of the Holy Spirit
Jesus' Promise of the Spirit
Did You Receive Everything?
Sealed and Filled
The Person of the Holy Spirit
The Trinity in Unity
The Voice and Leading of the Spirit
Acts of the Holy Spirit
Discerning His Voice
Qualifications for Service
The Holy Spirit Our Teacher
The Spirit Speaks, Guides and Sends Forth
The Spotlight of Holiness
The Holy Spirit Preparing for Christ
Gifts of the Holy Spirit
The Holy Spirit in the Life of Christ
The Fruit of the Holy Spirit
Hope in Christ Jesus
Revealing Self
Live According to the Spirit, Not the Flesh
Surrender to Christ
Heed the Spirit
Possessed by the Holy Spirit
Holy is the Lord
Him Living His Life
The Flesh is Useless
The Pruning of the Master
The True Vine
Being One with Him
Jesus, One with the Spirit
The Holy Spirit as Intercessor
The Intercession of the Spirit of God
Abiding in the Vine
Searching All Things
Christ the Victor
Victory Over Death
The Holy Spirit and the Plan of God
The Spirit in Revelation
Channels of the Holy Spirit
The Comforter and Multiplier
The Six-fold Witness of the Spirit
Resisting the Holy Spirit
Let the Spirit Possess You
Sources and Notes