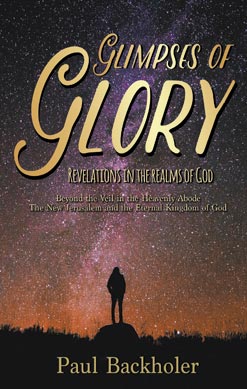 Order the book in our store
here
.
Glimpses of Glory, Revelations in the Realms of God
Beyond the Veil in the Heavenly Abode. The New Jerusalem
and the Eternal Kingdom of God
Find a world beyond earth which is real, vivid and eternal. Many people have claimed to have visited heaven and yet these accounts often conflict with what the Word of God says. In this narrative receive biblical glimpses and revelations into life in paradise, which is filled with references to Scripture to confirm its veracity.

Join a believer, an angel and a glorified man on the most biblical book about heaven that you may ever read. Find answers to questions and open your mind to eternal thinking, as you reach beyond the veil into eternity, with those who love the Lord Jesus Christ.

Book Details

Size 9 x 6 inches (229mm x 152mm)
23 chapters
144 pages
ISBN 978-1-907066-58-0 (paperback)

eBook Details

ISBN 978-1-907066-59-7 (eBook)
Available on multiple eReaders.
Kindle, Kobo, Apple iBook, Nook, etc.





Order the book in our store here.



Contents
Introduction
Paradise
Three Visitors
A Golden Cottage
The Gate of Heaven
A Great Reunion
Millions of Angels
The Heavenly Body
A Change in our Nature
The Heavenly City
The First and the Last
A Matter of the Will
Back to Eden
Calvary
The Good Shepherd
The Ancient of Days
Hell
Free Will
The Kingdom of God
An Empty Soul
The Cloud of Witnesses
Number Your Days
Mary or Martha
Unbelief and Denial
About the Author
Paul Backholer is a British broadcaster and the founder of ByFaith Media. He is the director of ByFaith Television which airs on multiple platforms around the world and is the producer of several Christian documentaries. Paul is the author of many books, including
The Baptism of Fire
,
How Christianity Made the Modern World
,
The Exodus Evidence
and
The Ark of the Covenant
. Paul studied in a British Bible college and has travelled to over forty nations working on Christian projects.
Order the book in our store
here
.