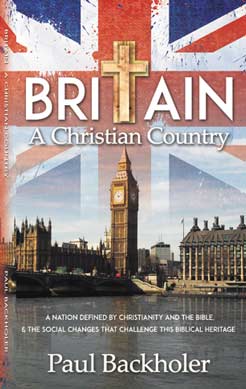 Order the book in our store
here
.
Britain, A Christian Country
A Nation Defined by Christianity and the Bible,
and the Social Changes that Challenge this Biblical Heritage by Paul Backholer
For over a thousand years Britain was defined by Christianity, with monarchs dedicating the country to God and national days of prayer that saved the nation in its darkest hours.

Discover the continuing legacy of the Bible in Britain, how faith defined its nationhood and the challenges from the 1960s to the present day.




Book Details
Size 9 x 6 inches (229mm x 152mm)
37 chapters
302 pages
ISBN 978-1-907066-45-0 (paperback)
ISBN 978-1-907066-46-7 (eBook)


Contents
Introduction: Christianity in Britain
How Britain Became a Christian Nation
A Nation Covenanted to God

Part One: The Making of a Christian Country
Celtic Christianity
Darkness and Light
The Celtic Golden Age
Power and Pain
Celtic or Catholic
Alfred the Great
The Three Hundred Year Prophecy
Medieval Life
New Testament Christianity
Empowering Parliament
The Glorious Revolution
Liberty, Justice and Education
Christianity, Commerce and Civilisation
The Faith of Queen Victoria
Fighting for Liberty
Divine Intervention
The Battle of Britain
Turning the Tide
Democracy and Social Justice
Christianity, Devotion and Dedication


Part Two: Social Changes
The Great Storm of Change
A Bitter Price to Pay
An Outcry Heard in Heaven
Spiritual, but Not Religious
Tearing Down the Altar to One God
Society and Shared Values
Limitations on Liberty
Rejecting Godís Protection
Christianity and Safeguarding Liberty
Apostasy and Conversion
Christian Heritage in Peril
We want it Now!
Crisis, what Crisis?
Being Honest about our Need
Hope for a Christian Awakening