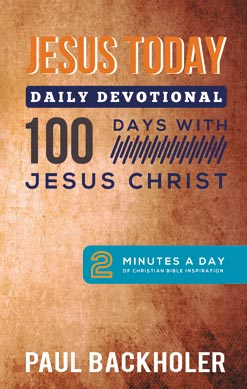 Order the book in our store
here
.
Jesus Today - Daily Devotional - 100 Days with Jesus Christ
2 Minutes A Day of Christian Bible Inspiration
Walking with Jesus Ė two minutes a day to encourage and inspire.

Have you ever wished you could have sat at Jesusí feet and heard Him speak? Jesus Today is a concise daily devotional defined by Jesusí teaching and how His life can change ours. See the world from Godís perspective, learn who Jesus was, what He preached and what it means to live abundantly in Christ.

100 days of Christian inspiration to draw you closer to God.


Book Details
8.5 x 5.5 inches (216mm x 140mm)
112 pages
ISBN 978-1-907066-35-1 (paperback)
ISBN 978-1-907066-39-9 (eBook)

Contents and Themes
Introduction
Jesus is God
Kingdom Clashes
The Good News
Christís Deity
Obedience is Key
Godís Love and Free Will
Heaven and Hell
Kingdom Living
Prayer That Works
Work, Money and Wealth
Conditional Promises
The World and Government
The Measure of Judgment
The Church and Eternal Living
You are Loved
The Cost of Sin
Jesus and Women
Marriage or Singleness
Suffering and Healing
Treasure in Heaven
The Holy Spirit
Christís Passion
Jesusí Resurrection Life
The End Times
The Final Command
Sources and Notes