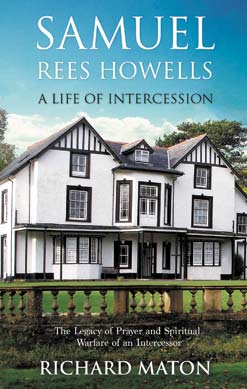 Order the book in our store
here
.

Samuel Rees Howells: A Life of Intercession
The Legacy of Prayer and Spiritual Warfare of an Intercessor by Richard Maton
Rees Howells reached the pinnacle of his life of intercession during World War II, when God transformed world events through prevailing prayer. 'Praying through' with Rees, was his son, Samuel Rees Howells. Nearing his death in 1950, Rees Howells turned to Samuel and said, "Whatever you do, stand and maintain these intercessions." For the next fifty plus years, Samuel was faithful to this commission as he developed as an intercessor and man of faith.

As the new director of the Bible College of Wales, Samuel led more than one hundred intercessors who had been trained under Rees Howells, to intercede whenever gospel liberty was threatened. Beginning with prayer for revival around the world, especially in China, Samuel's intercessory battles led him to bind the strong man during the Korean War to the Cuban Missile Crisis and from the Six-Day War to the fall of the Berlin Wall.

Beginning in 1912, this book continues the powerful story of intercession which began with Rees Howells and traces the continuing legacy of spiritual warfare through the life of Samuel Rees Howells and into the twenty-first century.



Key Intercessory Battles
World World II prayer overview
The liberation of Italy, Salerno
Establishment of the the State of Israel
Korean War
Kenya Crisis
Taiwan Strait Crisis
Malayan Emergency
Revival in China
Cuban Missile Crisis
Conflict in India, Yemen, Jordan
Congo Crisis
Six-Day War
War in Portuguese East Africa
The Vietnam War
Mozambique
Conflicts in Angola, Lebanon and Cambodia
Yom Kippur War
Cyprus and Turkey War
Falklands War
Liberty in Eastern Europe
Demise of Communism
Fall of the Berlin Wall
Freedom in the former USSR
End of Apartheid in South Africa
Gulf War in Iraq
Keys to the Treasury

Order the book in our store here.
Book Details
Size 8.5 x 5.5 inches (216mm x 140mm)
61 chapters
240 pages
39 black and white photos throughout the paperback and hardback editions

ISBN 978-1-907066-13-9 (paperback)
ISBN 978-1-907066-37-5 (hardback)
ISBN 978-1-907066-29-0 (eBook)

Contents
Foreword
Introduction
A Solemn Occasion
Samuel, Sacrifice and Submarines
The Early Years
Rees and Lizzie Howells Return
Give Us This Day Our Daily Bread
Living By Faith in the Great Depression
The Every Creature Vision
Swansea Blitz
Training in Intercession
Intercession for the State of Israel
The Death of Rees Howells
A Company of Intercessors
The Great Commission
War in Korea
Persistent Prayer
The Heart of Kenya
Emergency in Malaysia
Intercession for China
A Biblical Foundation
Sending Out Missionaries
The Bible School of Living Faith
Supplying the Living Bread
First Missionary Journey
Second Missionary Journey
The Cold War
The Cuban Missile Crisis
India, Yemen, Jordan and the Nations
Congo in Crisis
The Darkest Hour for China
Behind Enemy Lines
The Six-Day War
The Vietnam War and Mozambique


Angola, Lebanon and Cambodia
The Yom Kippur War
Cyprus and Turkey
Christ Our Lord
The Falklands War
Rees Howells' Biography
Rees Howells' Teaching Legacy
Ethiopian Dreams
What is Intercession?
Spiritual Warfare for Eastern Europe
Intercession Only
The Fall of the Soviet Union
The Charismatic Renewal
Hope in South Africa
War in Iraq
Faith to Open the Treasury
Emmanuel School
A Deep Christian Walk
Overwhelmed and Exhausted
Never Let Go
10,000 Believers Possessed by God
Possessed by the Holy Spirit
Fifty Years As Director
Vulnerabilities
God's Word Available for All
The Final Intercession
A Living Legacy
Samuel's Last Few Years
The Vision in a New Wineskin
Trinity School of Ministry and Global Horizons
ByFaith Media Books
ByFaith Media DVDs

Order the book in our store here.


Contents of Photos
From Rees Howells to Samuel Rees Howells
Samuel Rees Howells, August 1963, age 51
Signature of Samuel Rees Howells
The Howells Family, January 1941
A saying from Samuel Rees Howells
Rees and Lizzie Hannah Howells 1910
Samuel Howells in early 1913, age 1
Two postcard from South Africa 1918
Samuel Rees Howells in 1917, age 5
Glynderwen House Mid-late 1920s
Aerial view of Glynderwen Estate c.1955
Samuel Rees Howells with his mother, Lizzie c.1935
Derwen Fawr House on the Derwen Fawr Estate c.1950
Lizzie Howells with Jewish refugee, Herbert Grunhut 1939
Rees Howells with his son, Samuel c.1932
Graduation Day, in the Prayer Room 2002
Newspaper advert for BCW's Missionary Conference 1954
Samuel Rees Howells preaching in France 1962, age 50
Aerial view of Sketty Isaf and Derwen Fawr Estates c.1950
The Howells family and Emperor Haile Selassie 1939
The Penllergaer Mansion (the Big House) c.1938
Headstone of Hudson Taylor, China Inland Mission
Tomb of Robert Morrison, missionary to China
A section of the Italian Gardens at Derwen Fawr
Samuel Rees Howells in 1989, age 77
Samuel Rees Howells, Bible House, Istanbul, Turkey
Samuel Rees Howells in Yugoslavia 1962
Samuel Rees Howells' ten-year passport from 1948
Samuel Rees Howells, age 29 with Tommy Howells 1941
Section of a cheque (check) for Bibles for China, mid-1970s
Staff members of Emmanuel Grammar School c.1970
Grounds of Emmanuel Grammar School
Samuel Rees Howells at Southbourne Evangelical Church
"Ebenezer" on the courtyard wall of Derwen Fawr Estate
The Howells family by Jehovah Jireh plinth 1947
Samuel Rees Howells with Rev. George Oakes 1998
Sketty Isaf House on the Sketty Isaf Estate
Richard and Kristine Maton in June 2012
Memorial stone of Samuel Rees Howells 1912-2004
The College Vision: 'Go ye into all the world and preach…'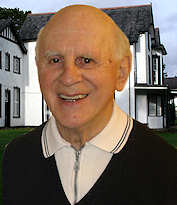 About the Author
Richard Maton worked under Samuel Rees Howells' ministry for forty-seven years and provides us with a firsthand account of Samuel's life. Richard was converted under the preaching of Dr. Martyn Lloyd-Jones and was called to Rees Howells' Bible College in 1956 after hearing Leonard Ravenhill preach. He has served in various roles as teacher, lecturer, dean, trustee and Principal of the College and worked closely alongside Samuel Rees Howells for more than twenty years. Richard is married to Kristine.

Kristine Maton joined the College family in 1936, when her parents sold all to join the work, when Rees Howells was the Director. She grew-up at the College during the war years, and later joined the School staff, taking various roles including becoming Head Teacher. Kristine has laboured extensively with her husband Richard on this book, providing valuable insights, including personal memories from the prayers of Rees Howells, to the many decades of the ministry of Samuel Rees Howells.

Richard Maton is also the author of the full biography of Samuel Rees Howells, including the history of the Bible College of Wales. Learn more about Samuel Rees Howells in the book Samuel, Son and Successor of Rees Howells Go.

Order the book here.