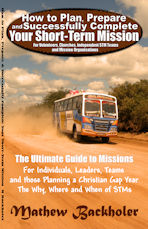 Order the book in our store
here
.


How to Plan, Prepare and Successfully Complete your Short-Term Mission – for Volunteers, Churches, Independent STM Teams and Mission Organisations by Mathew Backholer.

The Ultimate Guide to Missions – For Individuals, Leaders, Teams and those Planning a Christian Gap Year
The Why, Where and When of STMs.


The author, Mathew Backholer has been on more than thirty STMs and has experienced the best and worst of STMs, both as a leader and as a participant. He has travelled the length of Africa, had a mishap with a motorcycle in Cambodia, been attacked by thieves in Europe and has slept in hostels, mud huts and under the stars! He has participated in the most incredible mission adventures sharing the word in Sudan, preaching in India, supplying Bibles in Africa and maintaining mission centres in Europe. From his many adventures in over thirty nations, Mathew reveals how to plan well, avoid the pitfalls and successfully complete your STM!
More than 140 real-life STM testimonies!


In the last few years, millions of Christians both young and old have embarked upon an expedition of a lifetime into the unknown - to serve, witness and experience another world. Now it's your turn to take the challenge and put your faith into action, as you prepare for your short-term mission (STM) as part of the Great Commission.
Book Details
8.5 x 5.5 inches (216mm x 140mm)
48 chapters
280 pages
ISBN 978-1-907066-05-4 (paperback)
ISBN 978-1-907066-23-8 (eBook)



Contents:
Preface
The Importance of the Great Commission
Why Should I GO on Short-Term Missions (STMs)
Should I Go on the Mission Trip?
My Call or God's Call?
Are Short-term Missions a Waste of Finances?
My Motives for Going on a Short-Term Mission
Types of Mission Work – Preaching and Humanitarian
Duration, Destination and Timing
Mission Organisation, Church or Independent STM-er?
The Will of the Lord / God's Guidance
The Short-Term Mission Team
Picking a Mission Team
Dangers and Concerns
Financing your Short-Term Mission
Finances – Trusting God
How much Money will I need?
The Independent STM-er Budget
Spend Wisely
Stretching Your Budget
Money Matters - Cash Points, Credit Cards and the American Dollar
Preparation Before You Depart
Items to Buy and What may be Practical
Gadgets and Bling – Do I pack it?
Go Pack your Bag
I've Arrived - Settling In




Duty and Character
Being Streetwise
Security, Wisdom and Safety
The Law of the Land
Look After Yourself – The Human Body
Looking After Each Other
The Culture of Another
Christian Culture
Being Culturally Sensitive
Understanding the Locals
Inequality, Oppression and Slave Labour
The Isolation of the Tribe
Food and Drink
Team Dynamics – Leadership and the Team
Testimonies, Translation and Preaching
Working with the Locals
Remunerations and Wages for the Locals
Requests for Assistance
The Love of Christ in Action
Giving to the Poor and Needy
What you Hope to Achieve
Getting Ready to Return Home
Back at Home
Appendices
Sources and notes

Order the book in our store here.