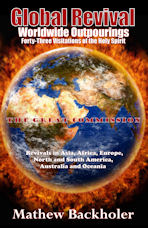 Order the book from our store
here
.

Global Revival – Worldwide Outpourings
Forty-Three Visitations of the Holy Spirit. The Great Commission.
Revivals in Asia, Africa, Europe, North & South America, Australia and Oceania.


---
---
Global Revival – Worldwide Outpourings documents forty-three visitations of the Holy Spirit, featuring revivals in thirty countries, from Argentina to Australia, Eritrea, Jamaica to Japan and Zimbabwe to Zululand.

The author looks at the waves of missions within Christendom, discuses evangelism and the Great Commission and asks: Is evangelism revival? Can we see revival today, and if so how? He explores the Divine-human partnership of missions and revival, explains how revivals are birthed and reveals the fascinating links between layman and missionaries and the revivals that they saw in their fulfilment of the Great Commission as they sought God for the Greater Things in a spirit of holiness.

The author takes us through the Scriptures and explains why we need revival and the Scriptural basis for our prayers for revival. He asks us to consider our lifestyles, motives for revival, alongside our individual and corporate responsibility for evangelism and world missions and that were serve a covenant-keeping God who is true to His Word. God has so much more for us, if we are willing to meet His conditions and pay the price. Learn from the past, be challenged for today and be inspired for the future!

Book Details

8.5 x 5.5 inches (216mm x 140mm)
25 chapters
208 pages
ISBN 978-1-907066-07-8 (paperback)
ISBN 978-1-907066-21-4 (eBook)



What is Revival?
The Concept of Revival
Evangelism Verses Revival
How did the Revivalists see Revival?
Revival – The Divine-human Partnership
How Revivals are Birthed
Revival and the Great Commission
43 Accounts of Revivals
Why we Need Revival
The Motive for Revival
How to see Revival – Our Lifestyles
The Revivalists Observations
Prayer for Revival
Nurturing a Revival

Content of Revivals and Awakenings
An overview of 30+ Revivals from the Holy Bible
Moravian Revival 1727
North American Indians 1745-1746 (David Brainerd)
Tinnevelli, India 1802
Student Revival 1816-1819 – Geneva, Switzerland
Alleghany Tract Revival c.1835
Hawaii Awakening 1836-1840
Jamaican Awakening 1838-1845
New Hebrides Revival 1852-1854
Canada 1857-1858
Zululand 1874
Telugu People 1878 (Lone Star Revival) – India
Rothesay Revival 1888-1889 – Scotland
Matsuye 1899 – Japan
Mukti Revival 1901-1902 – India
Australian and New Zealand Revival 1902-1903
Pyongyang Great Revival 1907-1910 – Korea
South Australia 1914
Rusitu Revival 1915-1917
Abyssinia 1920s
Latvia 1924
Estonia 1929
Tsinan 1930-1931 & Pingtu Revival 1931-1933 – China
Eggon Revival 1930 – Nigeria
Angas Tribe Revival 1930s – Nigeria
Kuwo Revival 1933 – China
New York & Eastern Nazarene College 1936 – USA
Bible Training Institute 1936 – New Zealand
Sudan 1938-1940s
Buenos Aires 1954 – Argentina
A Tribe in Indonesia – 1959
Nagaland Awakening 1960s
Karoland Revival 1960-1966 – Sumatra, Indonesia
Nagaland Awakening 1970s
Eastern Zimbabwe 1982
El-Minya Revival 1991 – Egypt
Eritrea 1993
Tibetans in China 1996
Malay Revival 1998
Malawi 2001 and 2004
Sapiranga Revival 2005 – Brazil
Burkina Faso 2006
Shillong Revival 2006-2007 – India
Kabylie Region 2009 – Northern Algeria



Global Revival – Worldwide Outpourings documents forty-three visitations of the Holy Spirit and includes revivals in Asia, Africa, Europe, North & South America, Australia and Oceania.

Mathew Backholer is the author of several books, including Revival Fires and Awakenings, Understanding Revival and Revival Fire. As a revival historian, Mathew collates, documents and records revivals and awakenings from around the globe. He also films and co-presents ByFaith TV, which airs on more than a dozen Christian networks around the world as he travels the world on short-term missions.

Order the book from our store

here

.