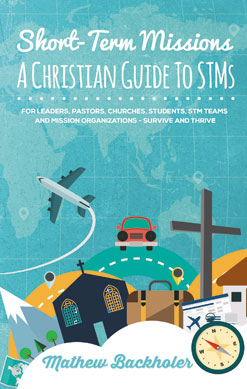 Order the book in our store
here
.
Short-Term Missions, A Christian Guide to STMs
For Leaders, Pastors, Churches, Students,
STM Teams and Mission Organizations
Survive and Thrive!
Short-Term Missions, A Christian Guide to STMs is a full and concise guide to STMs. What you need to know about planning a STM, or joining a STM team, and considering the options as part of the Great Commission, from the Good News to good works.

This book is full of anecdotes and advice with informative timelines, and a biblical framework for STMs to help you engage in cross-cultural missions; with viable solutions to common mission issues to make your STM more effective to the glory of God.



Survive and Thrive on your Short-Term Mission!


Mission considerations and types of STMs
What to do, where to go, with the best methods
How to pick a team or choose a STM organization
Raising financial support and managing your STM budget
Travel kit list, items to buy and what to leave behind
Emotional and spiritual work, before, during and at home
Security, safety, duty and character, and being streetwise
Dealing with social media and disruptive team members
Medical advice, obtaining a visa and your plane ticket
What to pack, how best to travel and airport etiquette
Christian literature, building a home or sinking a bore well
Communication, language issues and public speaking
Team dynamics, food and drink, the tribe, and social time
Working with the locals and being culturally sensitive
What to do before and after you return home

Book Details
6 x 9 inches (229mm x 152mm)
35 chapters
156 pages
ISBN 978-1-907066-49-8 (paperback)
ISBN eBook 978-1-907066-50-4 (eBook)
eBook available on multiple eReaders
Kindle, Kobo, Apple iBook, Nook, etc.


Contents
Preface
Short-Term Missions and the Great Commission
To Go or not to Go on a STM
Good Stewardship
Short-Term Mission Motives
The Good News or Good Works
Mission Considerations
Who to Go With
Guidance from Heaven
Who Should Go
The Dream Team
Concerns and Visas
Money for your Mission
The Cost of the STM – your Budget
How to Travel with Money
Preparation Before you Depart
Items to Buy and Consider
Go Pack your Bag

Preparing for Departure
The Arrival
Duty and Character
Be Streetwise
Spend Wisely
Security, Wisdom and Safety
Look After Yourself
Understanding Culture
Being Culturally Sensitive
Culinary Delights and the Tribe
A United Front
Communication and Public Speaking
Working with the Locals
The Labourer is Worthy of his Wages
Can you Give Me
Expectations and Reality
Preparing to Return Home
Back at Home

About the Author
Mathew Backholer is the co-founder of ByFaith Media and films and presents the reality mission series ByFaith TV which airs globally on numerous Christian networks. He has been on more than thirty mission trips and has experience: as a team member, a leader and as a host. He has travelled to forty nations of the world and is the author of many books, including: How to Plan, Prepare and Successfully Complete Your Short-Term Mission, Extreme Faith: On Fire Christianity and Global Revival: Worldwide Outpourings.