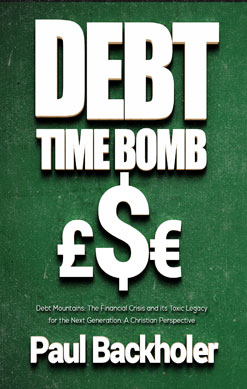 Debt Time Bomb! Debt Mountains! eBook
The Financial Crisis and its Toxic Legacy for the Next Generation: A Christian Perspective
The United States is building the largest debt mountain in history and Britain is still borrowing. How will these debts affect your family and will our nations still be paying them off in the 2080s?

In this book the author explains how and why this debt time bomb was created, the spiritual roots of this crisis, and the harsh implications for Western defence and global stability. What went wrong and can we do anything about it?
Available on multiple eReaders
Kindle, Kobo, Apple iBook, Nook, etc.
46 ePages on a standard eReader
Introduction + 5 chapters
ISBN 978-1-907066-51-1
ASIN B01AX23F7O


About the Author
Paul Backholer is a British broadcaster and the founder of ByFaith Media. He is the director of ByFaith Television which airs on multiple platforms around the world and is the producer of several Christian documentaries. Paul is the author of a number of books including
Heaven – A Journey to Paradise
,
How Christianity Made the Modern World
,
The Exodus Evidence
and
The Ark of the Covenant - Investigating the Ten Leading Claims.
Paul studied in a British Bible college and has travelled to over forty nations.
Order the book
here
.