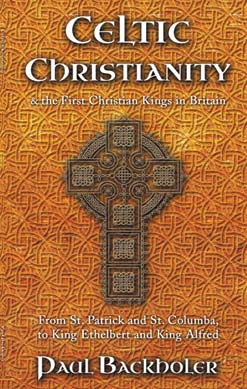 Order the book in our store
here
.
Celtic Christianity and the First Christian Kings in Britain
From Saint Patrick and St. Columba, to King Ethelbert and King Alfred by Paul Backholer
Celtic Christianity is as exciting as it is intriguing, from the first native Christians in the British Isles, through to the great saints such as Patrick and Columba; coupled with the trials and triumphs of the historic Anglo-Saxon kings.

For centuries, this unique and isolated expression of Christianity thrived in Britain and Ireland. Together Celtic Christians ignited a Celtic Golden Age of faith and light which spread into Europe. Discover this striking history, how a nation dedicated to God was born and what we can learn from the heroes of Celtic Christianity.


Book Details
Size 8.5 x 5.5 inches (216mm x 140mm)
18 chapters
96 pages
ISBN 978-1907-066-47-4 (paperback)
ISBN 978-1907-066-48-1 (eBook)


Contents
Introduction: A Beautiful Revelation of God
1. Celtic Faith
2. Invasion and Hope
3. Patrick and Ireland
4. The Celtic Light in Ireland, Scotland, England and Wales
5. The Celtic Mission to Europe
6. A New Brand of Faith
7. Supremacy
8. King Alfred and Christianity
Appendix A. Bishop Diaothus' Letter: The Independence of Celtic Christians
Appendix B. St. Patrick's Breastplate
Appendix C. The Nicene Creed
Appendix D. A Prayer of King Alfred
Sources and Notes
ByFaith Media Books
ByFaith Media DVD
Notes


Order the book in our store here.