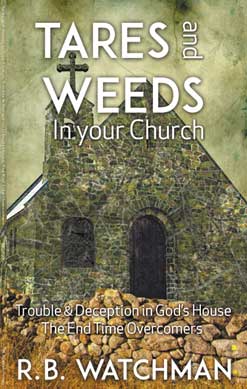 Order the book in our store
here
.


Tares and Weeds in Your Church, Trouble & Deception in Godís House
The End Time Overcomers: Church Discipline, Christian Leadership, Spiritual Warfare, Presumption and Defeating the Enemy by R. B. Watchman

Is there a battle taking place in your church, leading to divisions and splits? Can you do anything to stop the infiltration of the enemy? Through prophetic insight and personal experience in many churches, the author will expose a hidden snare used by Satan to undermine Godís purposes in His Church.

Tares and weeds are counterfeit Christians. They are often unknown pawns of the enemy, used to sabotage Kingdom work and all who are involved in it Ė to discourage, dishearten, depress or even destroy! They are planted to ultimately resist Godís will being fulfilled.


Learn how to recognise tares
Their form, nature and how they operate
How to deal with them in Godís peace
How to neutralise them in the Holy Spirit
How to protect yourself and others
Being victorious in Jesus Christ

R. B. Watchman was born shortly after the end of World War II and has had a rich and fruitful life in the Lord after a dramatic encounter with the Holy Spirit in the 1980s. He continues in active Christian service, often counselling and advising pastors and those in Christian ministry. He is the author of The Holy Spirit in a Man, one manís compelling journey of faith and intercession.





Book Details
8.5 x 5.5 inches (216mm x 140mm)
18 chapters
134 pages
ISBN 978-1-907066-43-6 (paperback)
ISBN 978-1-907066-44-3 (eBook)

Contents
Preface
Introduction
Tares Ė Enemies of God
The Farmer and his Seed
Tares and Weeds Explained
Enemy Infiltration
Captive to Satan
The Form and Nature of Tares
Spiritual Tarerorism (Terrorism)
Dealing with Tares
Beware of the Visit-Tare
The Overcomers
Led by the Holy Spirit
Tares and Presumption
Rebellious Leaders
Examples of Tares
A Persecuted Christian?
Revival or a Nativity Play
The Last Days
The Challenge
Appendix A Ė No Revival!
Sources and Notes
ByFaith Media Books
ByFaith Media DVD
Notes


Order the book in our store here.