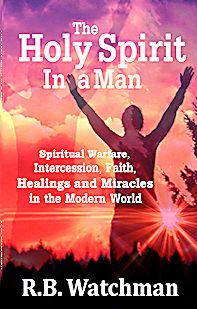 Order the book in our store
here
.
The Holy Spirit in a Man
Spiritual Warfare, Intercession, Faith, Healings and Miracles in a Modern World
by R. B. Watchman.
One man's compelling journey of faith and intercession.

Raised in a dysfunctional family and called for a Divine purpose, he ran from God, yet the world could not break nor tame him. Years later, he met with Jesus Christ in power through a dynamic encounter with the Holy Spirit and was changed forever.

Sent out by God, he left employment to claim the ground for Jesus Christ, witnessing signs and wonders, spiritual warfare and deliverance. In a remarkable modern day story of miracles and faith, see how God can take a depressed, defeated individual, teach him faith and use him the glory of God.

A gripping true-life story.


Book Details
8.5 x 5.5 inches (216mm x 140mm)
37 chapters
228 pages
ISBN 978-1-907066-41-2 (paperback)
ISBN 978-1-907066-42-9 (eBook)


Contents
Preface
Glimmers of Hope
Tides of Anger
Back to the Beginning
The Deep End
Power and Authority
Led By the Holy Spirit
Heed God, to Your Own Good
Death to Self-Reliance
There Must Be More Than This!
Meeting God Almighty
The Hidden Life
The Cost of the Call
Limiting the Lord
The Staff and Shofar
The Wiper Blade
The Suit
Not Again
Praying in Money
Strongholds Broken
The College of Intercession
Onwards and Forwards
Prayers for Peace
The Second D-Day
Unconditional Love
A Baptism of Love
Intercession
Spirit of Addiction
The Saddest Revelation of All
Where the Lord Provides
Power and Resistance
Go West – America
Re-Crossing the Jordan
The Overcomers at Work
The Challenge
Three Shocks and a Tare
The Form and Nature of Tares
Beware of the Visit-Tare
Appendix A – Demons/Evil Spirits
Appendix B – The Holy Spirit
Order the book in our store here.