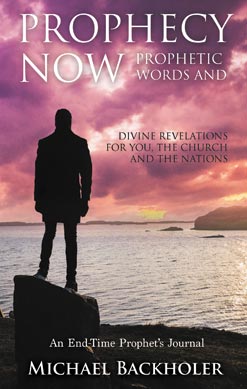 Order the book in our store
here
.
Prophecy Now, Prophetic Words and Divine Revelations for You,
the Church and the Nations: An End-Time Prophet's Journal



What does God have to say to the world in the 21st century?



Prophecy Now is an end-time prophetic journal received over a nine year period. Read of the coming revivals to Britain, Europe, and America, and learn of God's will for many nations – including the unification of Korea! Discover what God has to say about prayer, the fulfilment of the Great Commission, the end-times, Islam, global warming, the economic climate, Christian media, spiritual fathers, and much more.

Book Details


8.5 x 5.5 inches (216mm x 140mm)
21 chapters
136 pages
ISBN 978-1-907066-18-4 (paperback)
ISBN 978-1-907066-27-7 (eBook)


Featuring

The coming revivals in the nations
Times of judgment and great blessing
Warnings to those who fleece Christians
The call of the young end-time generation
The living destiny of older 'retired' Christians
Tares, deceptions, pruning, and false teaching
Spiritual warfare – principalities and powers defeated
Intercession – Rees Howells' legacy and an army of intercessors



Contents
Preface

Foreword

The Author

An Introduction to Prophecy

Revival – Britain and Ireland (1)

Revival – Britain and Ireland (2)

Great Britain and Other Nations

For the Body of Christ – the Church

America and Europe

Personal Responsibility

Intercessors – Spiritual Warfare (Rees Howells)

Harvesters and the Coming Harvest

The Holy Spirit

Lakeland Revival (2008) and its Lessons

Sluice Gate, Sin and Contempt
The Climate and End-Times

The Church and Her Issues

Offensive Christian Workers

Unholy Gain and Financial Manipulation

The Great Commission and Warfare

Facing Hard Truths – The Church

Tares, Hirelings and Pruning

Asia – Korea and Japan

Tares, Deception and Grace

Spiritual Warfare

Index to Key Words and Phrases

ByFaith Media Books

ByFaith Media DVDs

Notes

Thus says the Lord, "And it shall come to pass afterward that I will pour out My Spirit on all flesh; your sons and your daughters shall prophesy, your old men shall dream dreams, your young men shall see visions; and also on My menservants and My maidservants I will pour out My Spirit in those days" (Joel 2:28-29).
About the Author
Michael Backholer was born in England a few years after the end of World War II. After a powerful encounter with God in the early 1980s, and a visitation from the Lord, Michael fully surrendered his life to Jesus Christ and came into the fullness of the Holy Spirit. In 1989, he was called into the hidden life of prayer and was released from working for an earthly master. Since that time he has also served the Lord in a number of countries from the USA to South Africa, and all over Great Britain.
'Do not quench the Spirit. Do not despise prophecies' (1 Thessalonians 5:19-20).
Order the book in our store
here
.