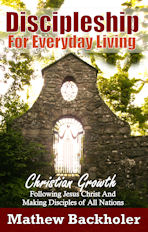 Order the book from our store
here
.
Discipleship For Everyday Living by Mathew Backholer

Christian Growth - Following Jesus Christ And Making Disciples of All Nations
Discipleship for Everyday Living is a dynamic biblical book for Christian growth to aid maturity in Christ Jesus, to help train and make strong believers with solid biblical foundations who reflect His image. The book covers such vital and essential subjects as: the Good News, help for Christians, discerning the voice of God, finding God's direction, prayer, intercession, the Great Commission, supporting Christian workers, practical evangelism, teaching others knowledge, combating error, Calvary and the blood of Jesus Christ, seeking healing, laying on of hands, blessings, curses and deliverance and much more.

Book Details

8.5 x 5.5 inches (216mm x 140mm)
50 chapters
258 pages
ISBN 978-1-907066-12-2 (paperback)
ISBN 978-1-907066-24-5 (eBook)





The book's 50 easy-to-read chapters are split into six sections:
• Firm Foundations
• The Call of God
• World Mission
• Evangelism and Teaching
• Ministering in the Power of the Holy Spirit
• Ministry – Being Set Free and Delivered

'As you have therefore received Christ Jesus the Lord, so walk in Him, rooted and built up in Him and established in the faith, as you have been taught…' (Colossians 2:6-7).

Contents:
Preface
Firm Foundations
The Good News
A True Christian
Help for Christians
Growing in the Christian Faith
What is Discipleship?
Spiritual Growth

The Call of God
Discerning the Voice of God
Finding God's Will
Finding God's Direction
Knowing the Way to Fulfil God's Direction
Servant-hood
Being Faithful
The Call of God for Service
God-given Vision
We Must Pray
Intercession

World Mission
The Great Commission (Missions)
My Responsibility for The Great Commission
Preparing for a Short-Term Mission (STM)
Physical, Emotional and Spiritual Preparation
Warnings, Dangers and Hazards of STMs
Long-Term Missions
Financing a Short-Term Mission
Supporting Christian Workers
Christian Workers and Finances

Evangelism and Teaching
Practical Evangelism
Personal Evangelism
Evangelism Tips
How to Evangelise
Power Evangelism
Teaching Others Knowledge
Christian Teachers
Pure Doctrine
Combating Error

Ministering in the Power of the Holy Spirit
Calvary and the Blood of Jesus Christ
Sin, Sickness and Decay
Hindrances to Healing
Seeking Healing
Signs and Wonders
Ministering to People
Anointing With Oil
Laying on of Hands

Ministry – Being Set Free and Delivered
Inner Healing – A Wounded Spirit
Receiving Inner Healing
Soul Ties and Dominating Relationships
Sins of the Forefathers / Generational Curses
Blessings and Curses
Deliverance – The Casting out of Demons
Demonised Places / Territorial Spirits
Epilogue
Sources and Notes
Personal Notes and Photos
ByFaith Media Resources



'…Christ in you, the hope of glory. Him we preach, warning every man teaching every man in all wisdom, that we may present every man perfect in Christ Jesus' (Colossians 1:27b-28)

The Author

Mathew Backholer is a senior member of the ByFaith Team (www.ByFaith.org) and films and co-presents ByFaith TV that airs globally on more than a dozen Christian networks. He has travelled to more than 40 nations researching revivals and carrying out mission work and is the author of: Mission Preparation Training (2006), Revival Fires and Awakenings (2006 and 2009), Global Revival - Worldwide Outpourings (2009), Revival Fire - 150 Years of Revivals (2007 and 2009), Understanding Revival and Addressing the Issues it Provokes (2009) and How to Plan, Prepare and Sucessfully Complete Your Short-Term Mission (2010).

Order the book from our store

here

.